How to transform your bathroom into an eco-oasis
Weekend project: 7 steps to an organised bathroom life and less plastic
One of the more frequently used rooms in the home, we spend about an hour and forty minutes a week in the bathroom, a highly functional space from the layout to the materials used, our bathrooms encapsulate our morning and evening routines… and all the products associated. They also serve as a mini sanctuary, as nothing can put a long day behind you better than a hot shower.
Seeing so much daily use it's near impossible to keep your bathroom immaculate. And over time we tend to test out new beauty products, maybe trial a new cleaning brand, or get caught off guard at IKEA and come home with a range of storage container to hold all your bathroom bits and bobs. It's not surprising it doesn't take long for bathrooms to become cluttered and full of plastic products.
Reinstate your bathroom sanctuary status by following our simple steps to transform your bathroom into a stylish eco-oasis and reduce your use of single-use plastics.
How to organise your bathroom into a waste-free space


Step 1, take everything out
There's only one way to do this properly and that's to take everything out of your bathroom vanity, bath/shower, cabinets, shelves, where ever you store your bathroom products and place them in the middle of the room.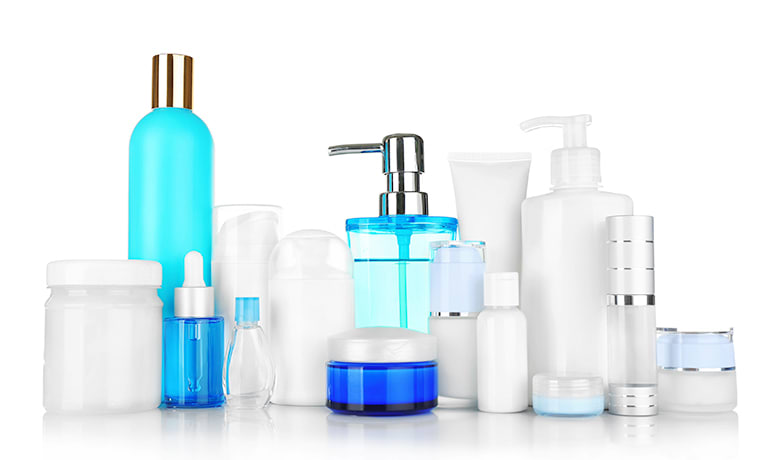 Step 2, edit your items
If it's been a while since you last organised your bathroom it's inevitable you'll find you've been collecting empty bottles or half-used products that have either expired or you tried and didn't like. Identify all the products you would like to keep and separate those from any empty or old products.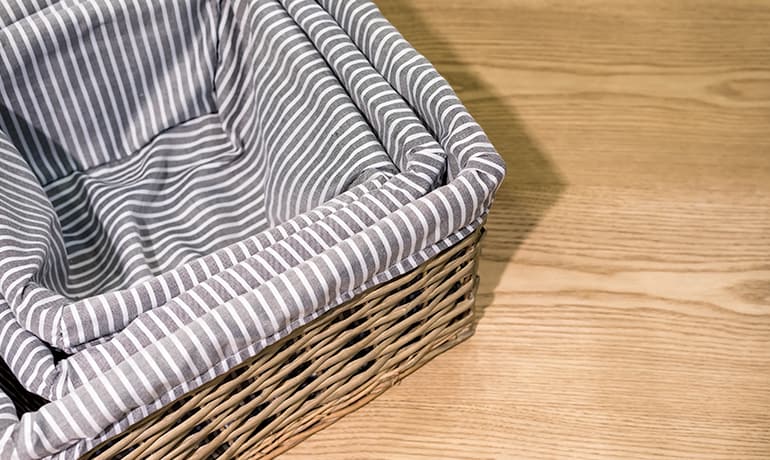 Step 3, conduct a quick eco evaluation
To create an eco-oasis, taking some time to re-evaluate the items you currently use will help streamline your bathroom routine. If you can make a switch to a sustainable alternative next time you need to replace something, make a note. By opting for long-lasting, ethically and sustainably produced products, you'll spend less in the long run, do right by the planet and see less waste building up in the future.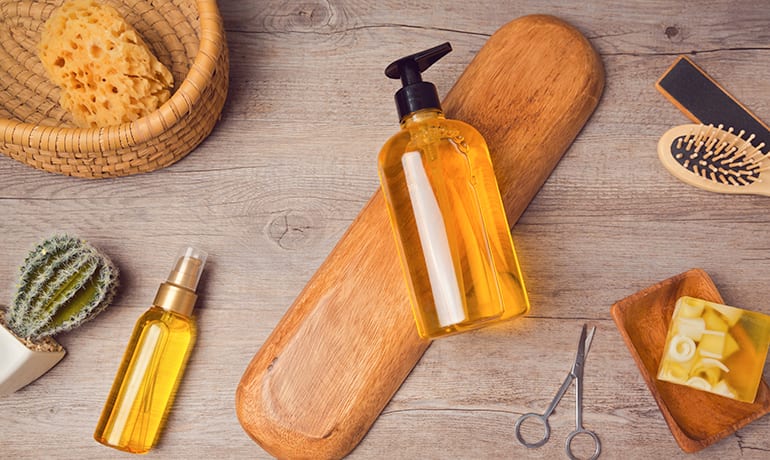 Step 4, repurpose or recycle
If you have empty or half empty bottles you don't want to keep, decide if the bottles could be repurposed effectively; smaller bottles are great for decanting shampoo and condition when you travel. If you want to purge all the unnecessary and take your bathroom routine back to basics, check product packaging carefully to see if it can be recycled before throwing anything away.
Step 5, deep clean
As all your bathroom items are out of the way, it's the perfect time to give your bathroom a deep clean, getting into those areas that might often be neglected (like the inside of the vanity and the tops of shelves). The only eco way to clean is without chemicals, investing in reusable fibre cleaning products offers a sustainable way to keep your bathroom clean, and you'll get the job done in half the time.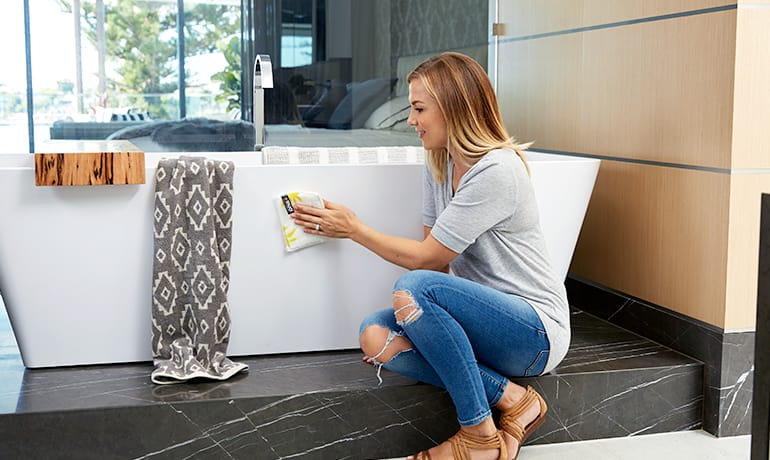 Step 6, organise your space effectively
You're now left with your must-have items. Of course it makes sense to keep daily-use items in easy-to-reach places, but for those items you keep in your vanity or storage cupboard, organise items by type or person (really useful for big families), this will help maintain a clean and calm vibe in your bathroom and makes the space more functional. Opt for bamboo or wicker baskets as opposed to plastic containers.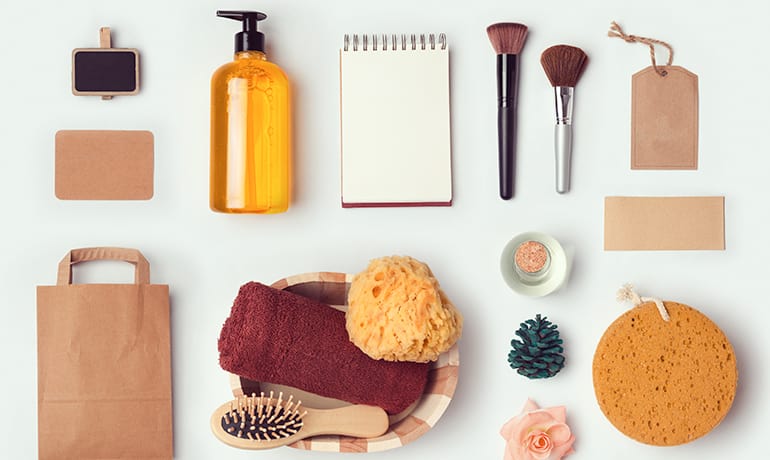 Step 7, add plants
Plants are always a good idea, and no eco-oasis would be complete without one…or two. Plants have the power to lift your mood and are reported to have air-filtering abilities which are especially useful in the bathroom, where humidity can interfere with the quality of indoor air. Plants like aloe vera, bamboo and Boston ferns prefer low light and humid environments allowing them to thrive in your bathroom.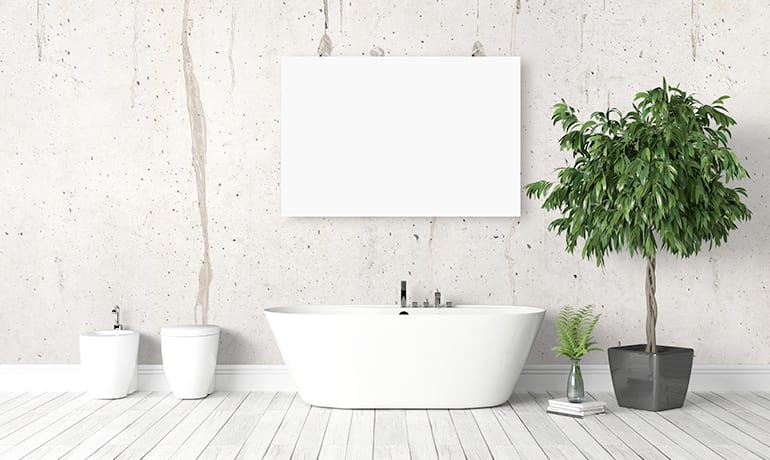 How to reduce plastic use and create an eco-oasis
Bathrooms are often one of the smaller rooms in the home, but none the less, they are rooms that use a lot of energy and a lot of single-use plastics. Every time we make a purchasing decision, we're making a production decision, you want to be choosing, long-lasting products that are ethically and sustainably produced, organic and chemical free; products that use single-use plastic packaging don't usually fit this criteria.
Plastic is a real problem and it's the single-use plastic products we use in our daily routines that culminate in the most damage to the environment. The time we spend in the bathroom sees us using a myriad of plastic products that could easily be switched out for a more sustainable substitute.
Hand soap
Choose to use natural and organic bars of soap, they can be purchased packaging free from some retail outlets, or choose a soap with recyclable packaging. If you prefer liquid hand soap, invest in a reusable glass bottle and buy in bulk to reduce repeat plastic purchases.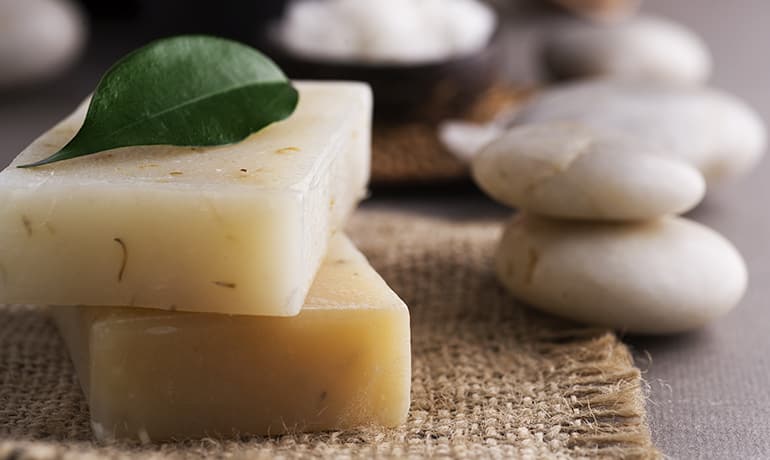 Cleaning products
A household necessity, especially in the bathroom, chemical cleaning products are often packaged in thick plastic bottles that aren't recycled easily, or take a lot of energy to do so. Choose a chemical-free option for cleaning by investing in ENJO's cleaning range. Reusable fibre cleaning products remove dirt and build-up in the bathroom with just water, last up to three years and ENJO actually upcycle the products at the end of their lifecycle – for a zero waste cleaning option.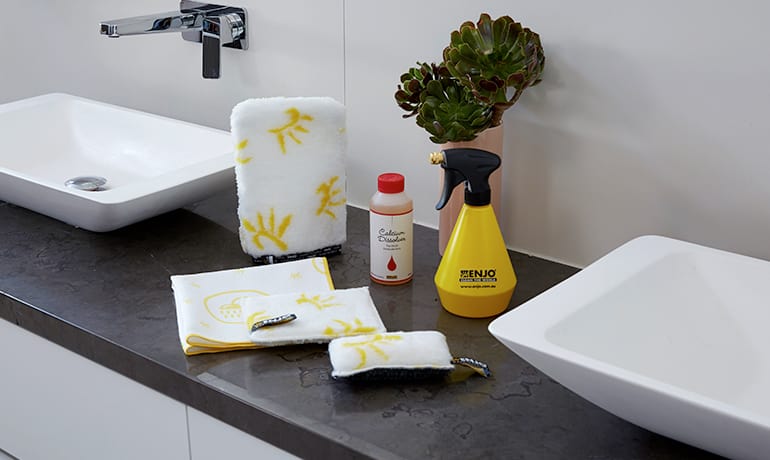 Toothbrushes
A double daily item, it's recommended we change our toothbrush every 3 months, which in Australia sees over 30 million toothbrushes used and disposed of each year, amounting to 1000 tonnes of landfill annually1. Opt for a biodegradable toothbrush made from bamboo and natural cellulose fibres. Bamboo grows quickly and has amazing self-renewing ability.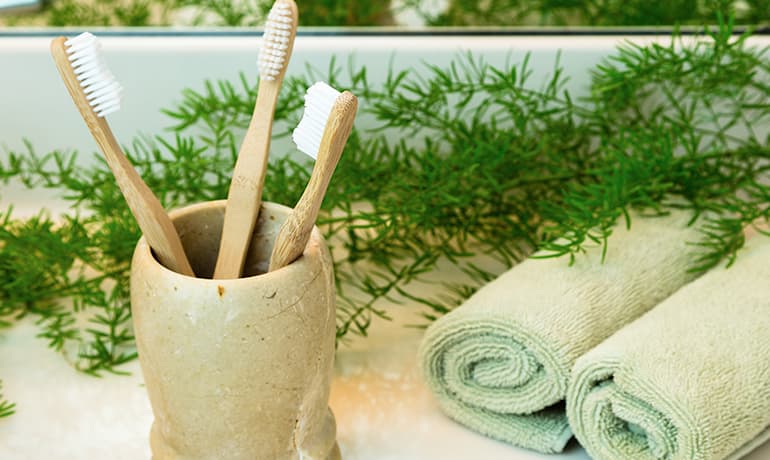 Storage solutions
Whether you're looking for a receptacle to hold your toothbrush or skin care, opt for glass jars or biodegradable baskets. By clearing out old products and bringing your bathroom routine back to basics, you should have fewer products to keep organised.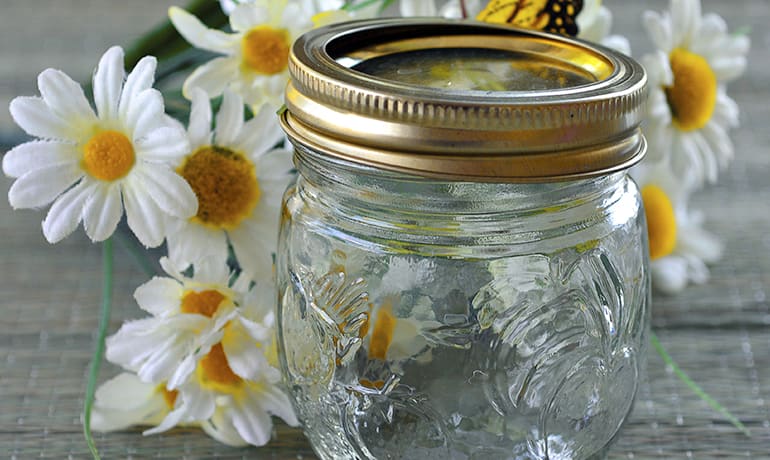 Shampoo and conditioner
More natural shampoo and conditioner recipe are hitting the market since research suggests that harsh chemical ingredients such as sodium lauryl sulphate could have carcinogenic, irritant and corrosive properties, but there are fewer option for plastic-free packaging. A little bit of research goes a long way, and there are eco-option out there such as refillable bottles or aluminium packaging.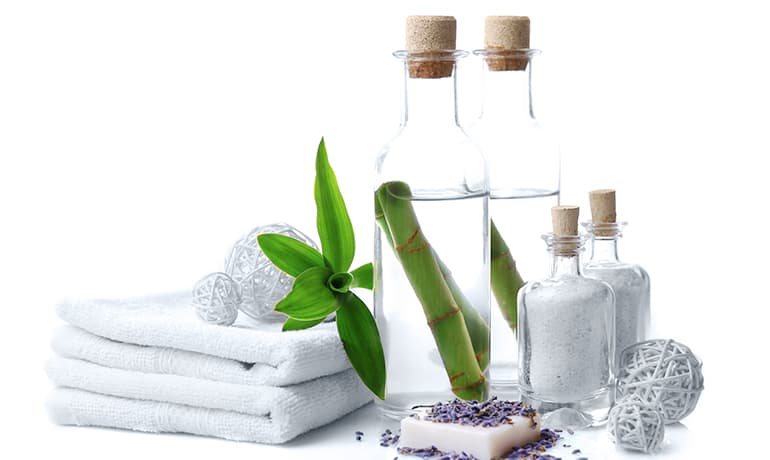 Skin care
Switch to a sustainable skin care option, or product with plastic-free packaging. Santé's Face Glove and Body Glove allow you to cleanse and exfoliate from head to toe, with just water, and are reusable for up to three years. Opt for a moisturiser than comes in a glass jar that can be repurposed or recycled after use, we love organic, Fairtrade coconut oil, for a nourishing and natural option.
Toilet roll
Whether you buy three rolls or 24, toilet roll often comes packaged in cling wrap plastic. There are eco-friendly choices available, like 'who gives a crap', who produce toilet paper from 100% recycled materials, with zero plastic packaging, and the really great thing, 50% of their profits go towards building toilets and improving sanitation in developing countries.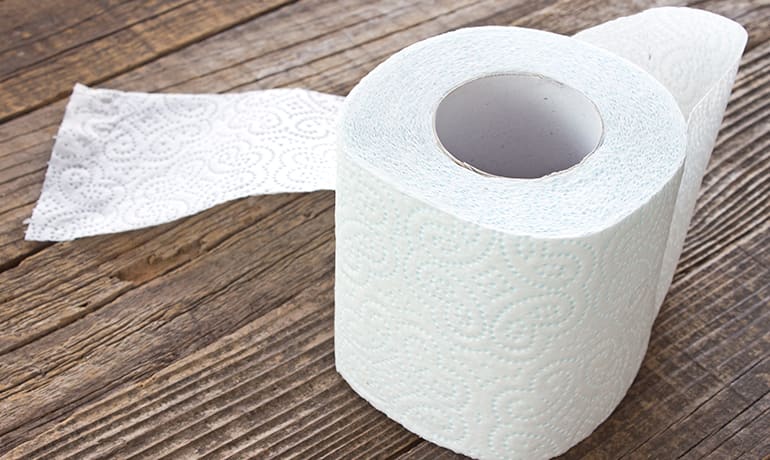 Towels
The textile industry is responsible for 10% of the planets carbon footprint, with cotton using 3% of global water. Choosing organic cotton for your towels is a far more responsible use of farmland and fresh water2, using few (if any) harmful chemicals and utilising farming practices that nurture soil health.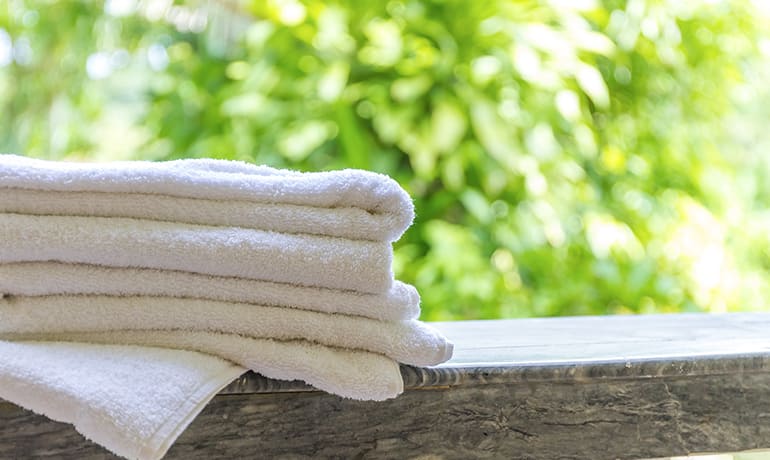 References
1. http://www.1millionwomen.com.au/blog/what-sustainable-alternative-plastic-toothbrushes/
2. https://www.theguardian.com/environment/2016/jul/24/the-eco-guide-to-cotton-towels