The surprising way people are saving money you probably never would have thought of
Clean up in 2018
Spending less and saving more is the dream, especially during the festive season, and what many people don't realise is that changing the way you clean could help you clean-up in a big way, we're talking saving almost $700… how? Keep reading.
How does changing your cleaning routine save you money?


Cleaning is something we're doing all the time; from the daily wiping-up spills and wiping down surfaces, to the weekly clean and annual spring clean – it never ends, and to do the job right we need our trusty cleaning supplies that get the job done.
However, not all cleaning supplies are made equal, for example, did you know that ENJO cleaning supplies last up to three years? One purchase can remove the need to buy so many cleaning products and save you so much money… but how much exactly?
The cost of cleaning with ENJO versus the cost of cleaning with chemicals


"ENJO's great, but it's expensive", we hear this all the time, and it's easy to think you're not spending that much on cleaning supplies from the supermarket, but think about it, how much do you spend a month on cleaning supplies?
Everyone's cleaning habits are different, so we've put together a shopping list of common supermarket cleaning products used to clean your kitchen, bathroom and living area (with real supermarket prices*) versus your ENJO triennial shopping list.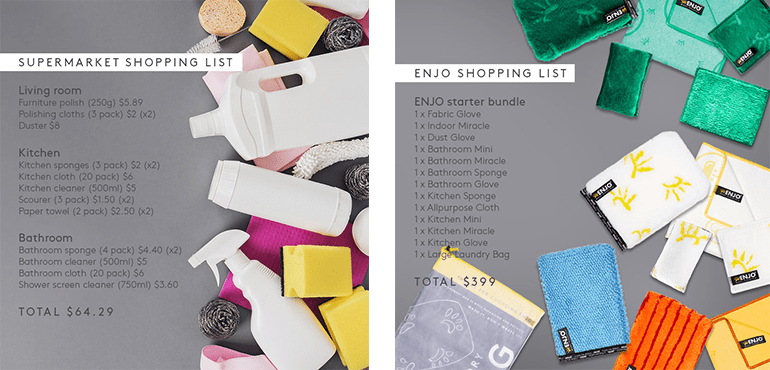 How often you purchase your disposable cleaning supplies depends on how often you clean, with ENJO you're guaranteed to make one purchase and save. Even if you spend as little as $30 a month on grocery supplies over 3 years you will have spent $681 more than if you bought the ENJO Starter Bundle.
How does ENJO save you money?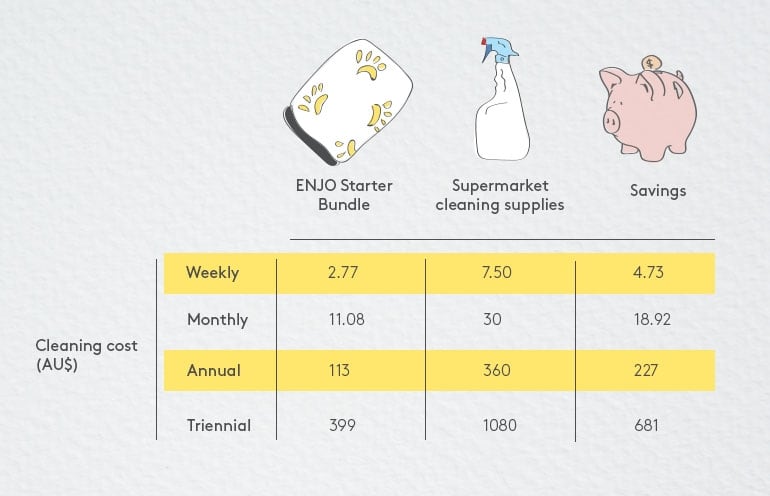 How ENJO works?


Want to save but not sure ENJO actually works? Find out how ENJO really works and watch our products in action.
Work out how much you spend on your cleaning routine and see if you can save.
*prices taken from coles.com.au as of 1.12.17