15 things you must do in New York and 1 way you could get there for free
A place like no other, New York City is a dream tourist destination and home to over 8.5 million people. A thriving metropolis packed into just 5 boroughs – it's the city that never sleeps and with so much to do, see and eat, you won't want to either.
Have you dreamed of seeing the bright lights of New York City? What if we told you there was a way to get there as your very own business owner.
How to get to NYC with ENJO
ENJO Australia sees flexibility in business as a priority, and believe that for those who seek the opportunity, building your own business should be achievable and affordable. For over 24 years' ENJO has offered Australian men and women the opportunity to carve out a lifestyle that truly suits them by running an ENJO Business.
Where does New York fit into this? Once a year ENJO Australia give their business owners the opportunity to attend a trip of a lifetime! While working their ENJO Business to create a lifestyle that works for them, ENJO Business owners are also working towards jetting off to enjoy all the sights and sounds of NYC in 2018… here's a little sneak peak of what they can expect.
Interested? Setting up an ENJO Business couldn't be simpler, you buy your own business (like a franchise), and introduce the ENJO brand to homes around Australia, earning commission and once-in-a-lifetime travel opportunities.
For more information about running your own ENJO Business and getting to NYC visit enjo.com.au/become-an-enjopreneur or contact our team at ENJO HQ customercare@enjo.com.au.
To get you in the mood, check out 15 things you won't want to miss in New York City.
Best places to visit NYC


Statue of Liberty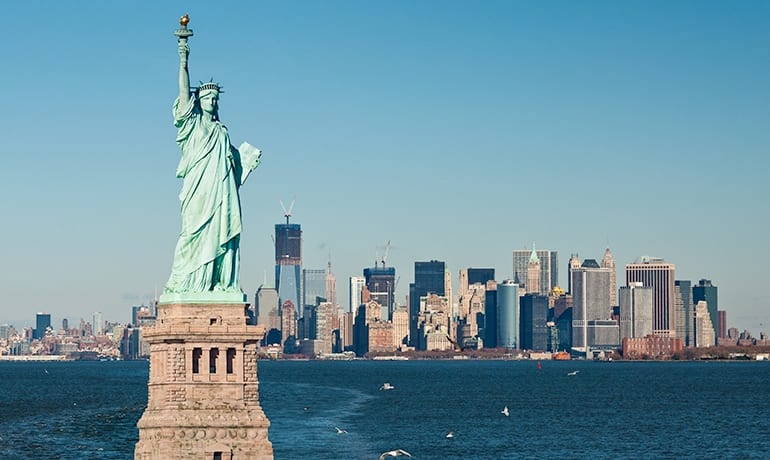 More than a monument, the Statue of Liberty is a symbolic figure of freedom and hope, its rich history woven through the fabric of the city of New York and its residents. Not only will you be experiencing a piece of American history, the ferry ride and visit to the statue offer views of the iconic New York skyline.
Broadway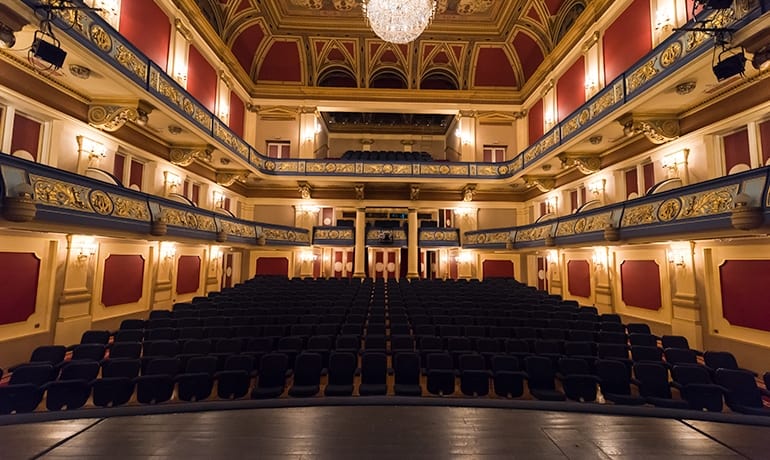 Home of the American theatre industry, no trip to New York is complete without catching a Broadway show, and with over 40 large professional theatres you'll be spoilt for choice with a constant variety of award winning plays and musicals. Try your luck at getting a seat to the critically acclaimed Tony Award winning 'Hamilton' for an entirely original approach to the story of one of America's founding fathers. Or why not see the longest running musical in Broadway history – 'the phantom of the opera'.
Central Park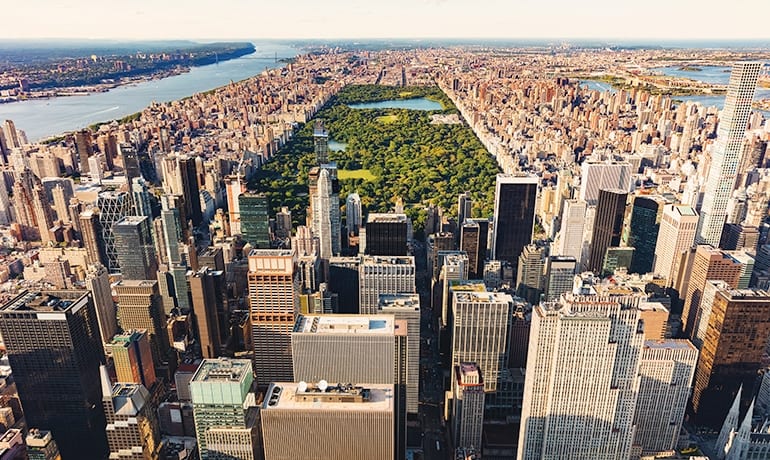 Take a break from the beat of the concrete streets with a trip to one of the world's most famous parks. In the heart of Manhattan this park has everything from beautiful gardens, meadows and rambling tracks to boats, pony rides and the central park zoo, a great way to spend the day.
Empire State Building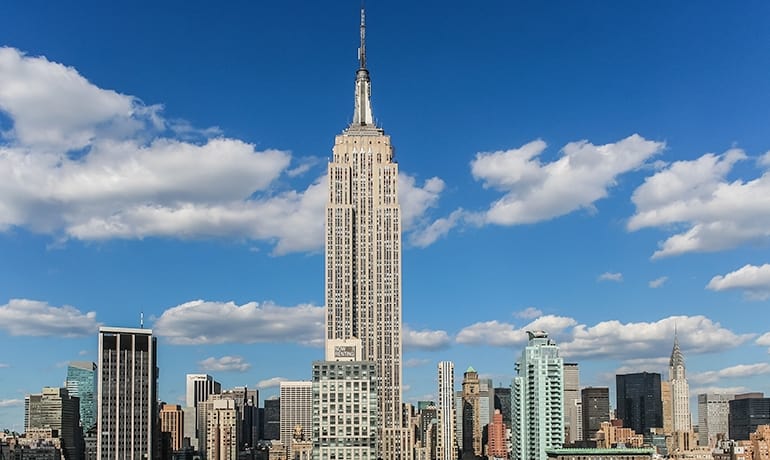 Once the world's tallest building standing 1454 feet tall, for 360 degree views of the magnificent city, a trip to the Empire State Building is a must!
Times Square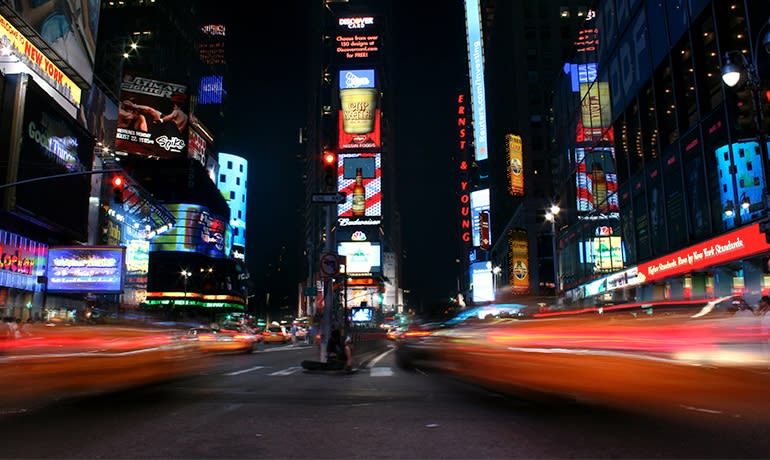 Possibly the worlds most famous intersection, the bright lights of Times Square attract the tourists in their droves to see a spectacle quite unlike any other. To really feel the rush of New York City get amongst the colourful chaos at Times Square.
Best places to eat NYC
They say New York City is always a good idea, and when it comes to grabbing a bite to eat, from Brooklyn to the Upper East Side you're affronted with a never ending supply of 'must-visit' eateries. We cover 5 lovely lunch spots that make the perfect petite pit-stop.
Tiny's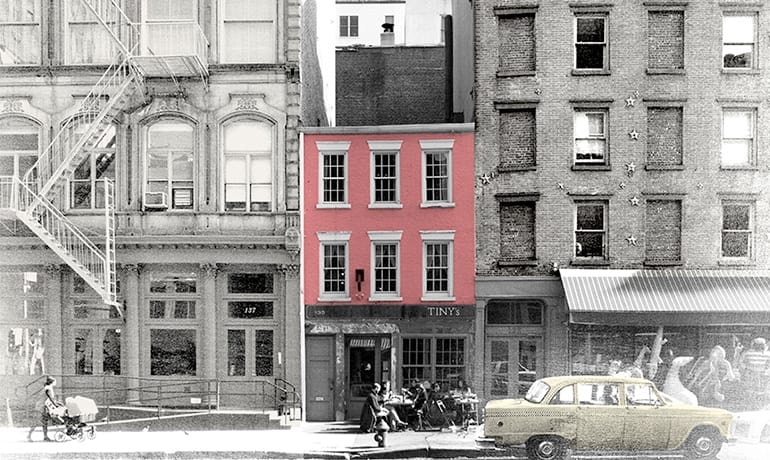 A 3 story townhouse dating back to 1810, modern-American cuisine with Southern and French influences.
Where: 135 West Broadway, New York, NY 10013
Lunch: 11am to 3.30pm
Best for: warm-hearted atmosphere
Must-try: 'Griggstown Fried Chicken'
Av price: $50 three course lunch
Los Tacos No.1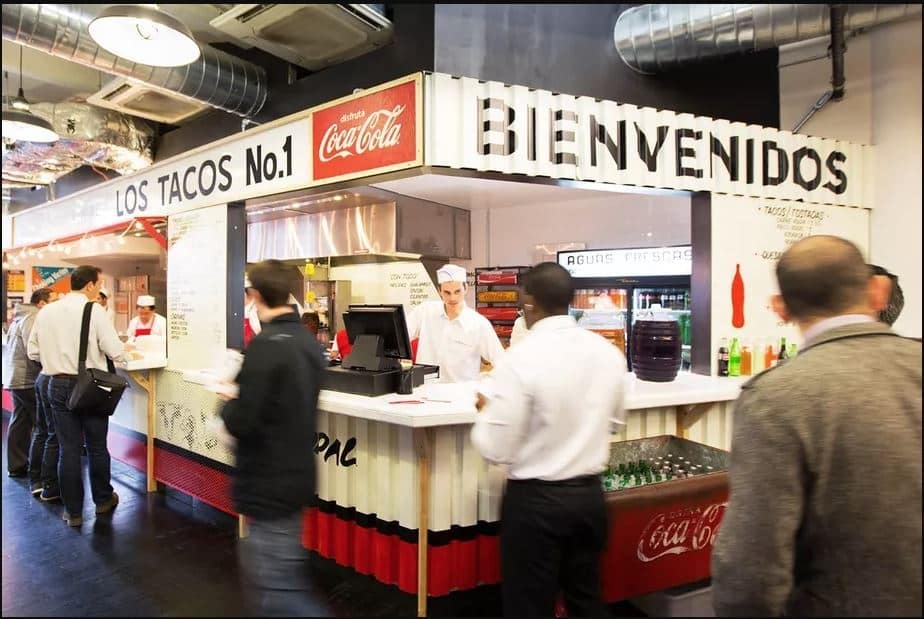 Three close friends bringing authentic Mexican tacos to the east coast.
Where: Chelsea Market, 75 9th Avenue, New York, NY 10011
Lunch: 11am to 3pm
Best for: casual bite that's full of flavour
Must try: 'Adobada quesadillas' marinated pork
Av price: $15 with sides and drink
Eisenberg's Sandwich Shop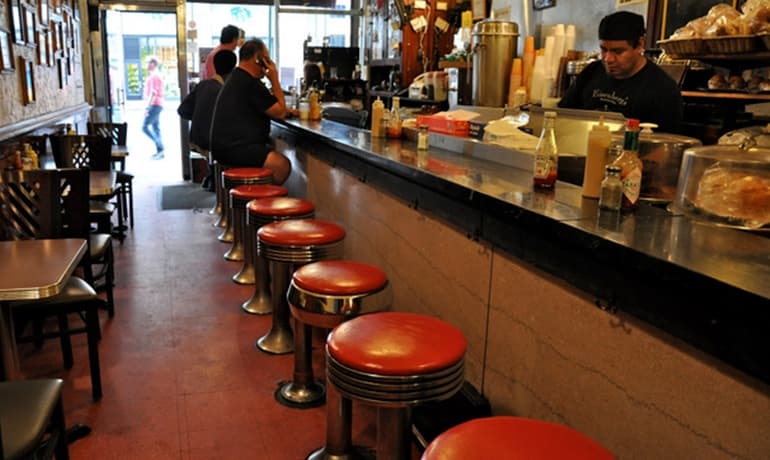 Loud and proud to be 'Raising New York's cholesterol since 1929' – all you could possibly want in a sandwich.
Where: 174 5th Avenue, New York, NY 10010
Lunch: 12am to 4pm
Best for: Amazing variety
Must try: 'Our Famous Reuben' pastrami, corned beef or turkey with Swiss cheese, kraut and Russian, grilled on rye
Av price: from $3.50 for a humble peanut butter & jelly to $10+ for your choice of toppings
Rainbow Room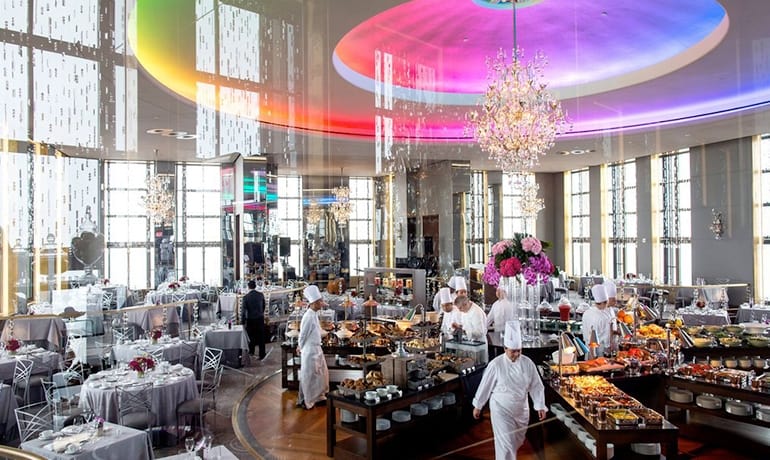 Enjoy your brunch in style. The Rainbow Room represents quintessential New York glamour with views you won't want to miss.
Where: 30 Rockefeller Plaza, 65th Floor New York, NY 10112
Brunch: 10.30am to 3pm
Best for: award-winning brunch cocktails and views
Must try: 'Duck Duck Duck' House cured Long Island duck ham, duck confit, duck Bolognese, poached eggs, classic hollandaise, duck chicharrones
Av price: $125 per person (excluding drinks, tax and tip)
Cup & Cup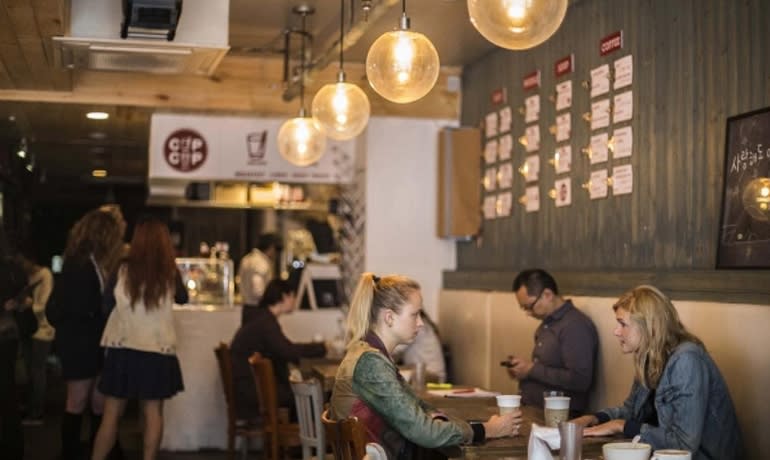 Modern Korean that's true to its name (served in cups).
Where: 15 East 31st Street, New York, NY 10016
Lunch: 11.30am to 3pm
Best for: delicious lunch-sized dishes for under $10
Must try: Seafood cream udon
Av price: $10
Best places to shop NYC
Recognised as the global shopping capital – whatever your retail pleasure, you'll find it in NYC.
Macy's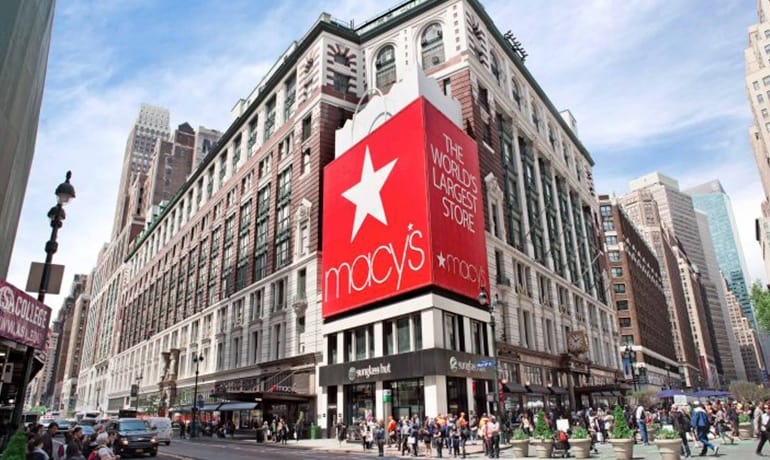 151 W 34th St, New York, NY 10001, USA
With 10 and a half stores, you can understand where the term 'get lost in Macy's' comes from! A must-see New York institution – make sure you head to the visitor's centre with your passport to get a 10% discount card.
5th Avenue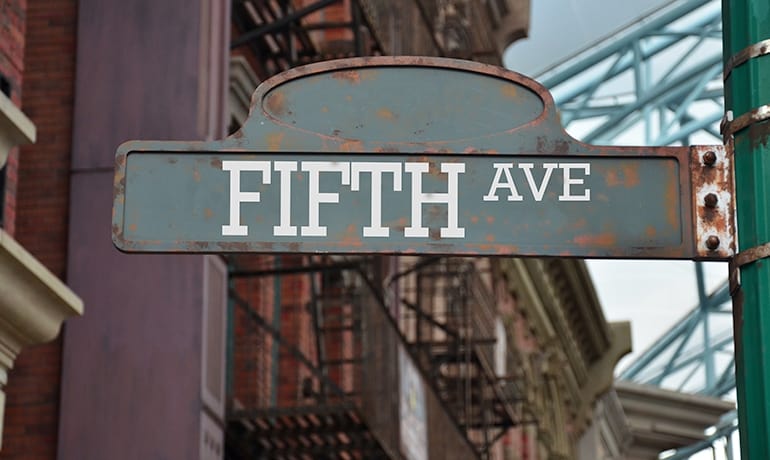 From 59th Street down to 14th Street, 5th Avenue, New York, NY
This famous street slices through the borough of Manhattan and is home to some of New York's most iconic stores including Tiffany & Co! If you make it through all the shops, sightseeing options are endless with the Empire State Building, Guggenheim Museum and Metropolitan Museum of Art to name but a few!
Woodberry Common Premium Outlets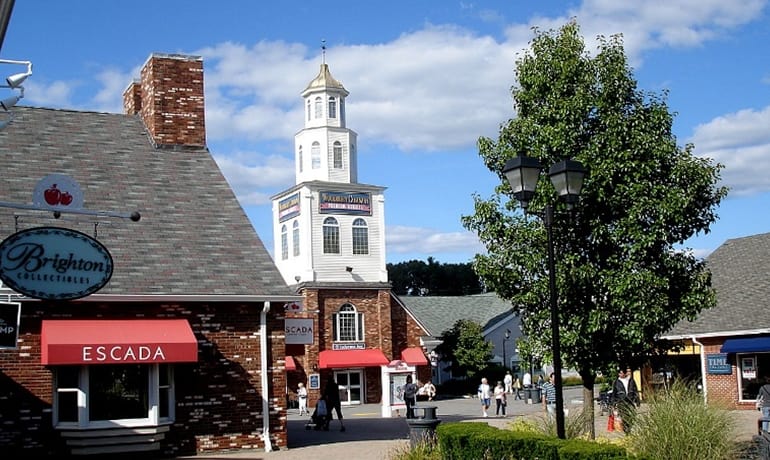 498 Red Apple Ct, Central Valley, NY 10917-6619
Conveniently accessed from NYC via the New York State Thruway at exit 16, Woodbury Common Premium Outlets feature 220 stores including Polo Ralph Lauren, Michael Kors, Burberry, Coach, and more all at savings of 25% to 65% every day.
Brooklyn flea market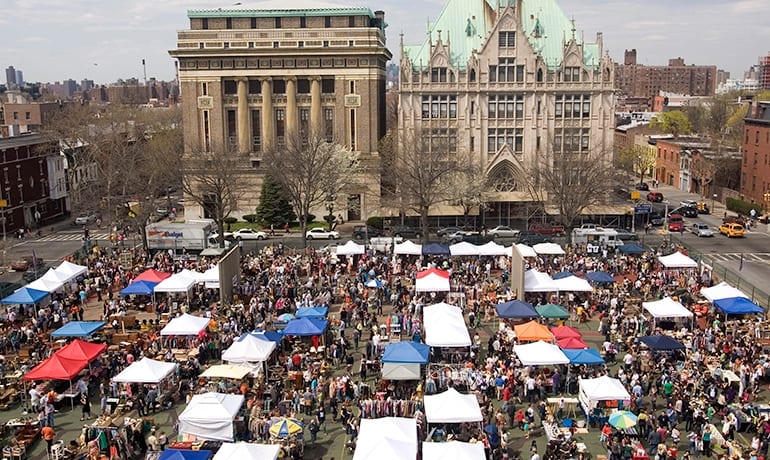 90 Kent Ave, Brooklyn, NY 11211
For those who love to find a one-of-a-kind treasure, a visit to the Brooklyn flea market is a must. An eclectic mix from vintage designer goods to bric-a-brac you never know what you'll find.
Madison Avenue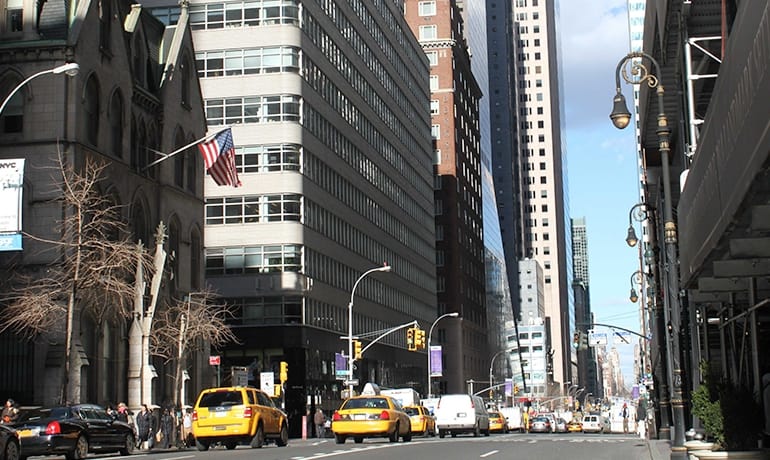 Madison Avenue, New York, NY
If designer threads are your thing, look no further than Madison Avenue. With 22 blocks stocked with names from Valentino to Calvin Klein, it's definitely worth a look even if your credit card stays firmly in your bag!