Not convinced cleaning without chemicals will actually keep your home clean? Then you need to read this post.

Cleaning without chemicals, it's healthier, it's safer (and it's faster)… but can cleaning with ENJO and water actually keep your home clean? We're about to clean up all those doubts and fill you in on a little thing called fibre technology.
So how does ENJO actually work?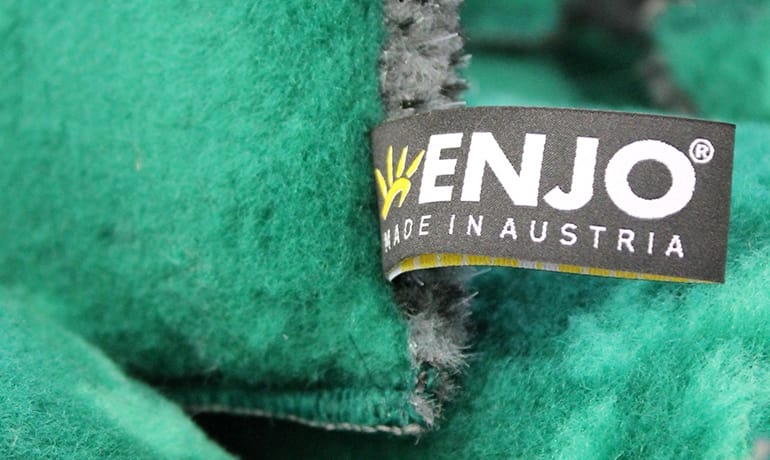 The secret to cleaning with ENJO and without chemicals comes down to one thing, fibre technology. Originally developed in 1985 in Austria, ENJO Fibres are unique and continue to evolve as technology advances.
It's these innovative little fibres that have allowed ENJO to offer Aussie families a way to clean that's free of harsh chemicals for the past 25 years.
The fibre
The raw materials
ENJO Fibres are made from quality raw materials that have the Oeko-Tex stamp of approval. Oeko-Tex is a worldwide independent testing and certification system for raw textiles, they put the raw textiles through their paces to ensure they are free from harmful and toxic substances.
The makeup
Each ENJO product has a unique, tailor-made makeup of five raw materials, specially designed to suit the purpose and the surface that requires cleaning. The fibres themselves are ultra-fine, 100-times finer than a human hair, meaning an ENJO fibre cleaning product has a large surface area for picking up dirt and bacteria. The fibres are also wedge-shaped to loosen and lift dirt, maximising each fibre's chemical-free cleaning power.
The weave
ENJO Fibres can be weft-knitted, woven or warped knitted, depending on the product and its purpose. The weave for each product is unique to ENJO allowing us to offer an unparalleled clean without a single harsh chemical.
The cleaning action
Now here's the part people find hard to believe, if you're cleaning with ENJO all you need is water. The water acts as a natural solvent and when teamed with ENJO, replaces the need for any harsh chemicals.
By directly spraying the surface with cool water, you start the cleaning process as the water helps loosen the dirt from the surface, and because the ENJO Fibre is so powerful, you simply wipe the surface clean and let the wedge-shaped fibres lift and trap dirt and bacteria in the unique weave. By drying the surface with ENJO's super-absorbent Miracle, you're preventing the growth of bacteria.
How is cleaning with ENJO different to cleaning with chemicals?
It's all about chemistry versus fibre technology.
As we've mentioned, cleaning with ENJO means cleaning without any harsh chemicals that can be harmful to your home and health.
Chemical cleaning products can fall into several categories (detergents, abrasives, degreasers, acid cleaners, solvents, bio-enzyme and oxygen cleaners) and they use chemistry – the mixing of different substances to produce a reaction – to keep surfaces clean. They usually use a surfactant to suspend grease and dirt teamed with chelating agents and solvents that work to boost the performance.
People often think they need chemicals to fizz away on their surfaces, especially in the kitchen, to keep their homes safe and germ-free, when in fact you can clean your whole kitchen safely without a single harsh chemical.
Now we know water is technically a chemical, but it's most certainly not harsh, in fact, 60% of our bodies are made up of water, it's an important source for all forms of life and when teamed with ENJO's innovative fibre technology it's the perfect natural solvent for cleaning your home.
Instead of chemical reactions, ENJO cleans using fibre technology. Their patented fibres (described above) work by lifting and trapping dirt and bacteria from surfaces.
Is ENJO more effective than chemical cleaners?
Yes. Real tests have shown that ENJO combats bacteria more effectively than chemical-based products, and it does so by removing bacteria from the surface.
How chemical cleaning products work
For the 'bacteria-killing action' of chemical cleaners to actually work, you need to rid the surface you're cleaning of all organic matter first. So if you're in the kitchen, step one is to wipe the surface clean or all crumbs etc.
Now you can spray the surface, and wait, as chemical spray and wipe products need contact time for the chemicals to actually work on the bacteria.
After you've waited, you use a cloth to wipe the surface clean. The chemicals may have killed the bacteria present (as they are only effective on a small number of pathogens), and you're wiping the chemicals around the bench.
Now you need to remove the chemical residue, so you grab a fresh cloth and lots of water to rinse and wipe and then finally dry.
How ENJO works
The ultra-fine ENJO Fibres don't kill bacteria, they physically lift and remove bacteria from the surface. Just add water, and the bacteria and dirt stay trapped within the special weave of the fibre and are not released until the fibre is washed.
By drying the clean, bacteria-free surface with the super-absorbent ENJO Miracle, you'll prevent bacteria from growing as they don't grow well on clean, dry surfaces. Job done without a single harsh chemical and leaving no chemical residue.
How do I clean with ENJO?
It's so simple. Each product is made to suit the surface you're cleaning, which means from a cleaning perspective, the process is the same for most ENJO products.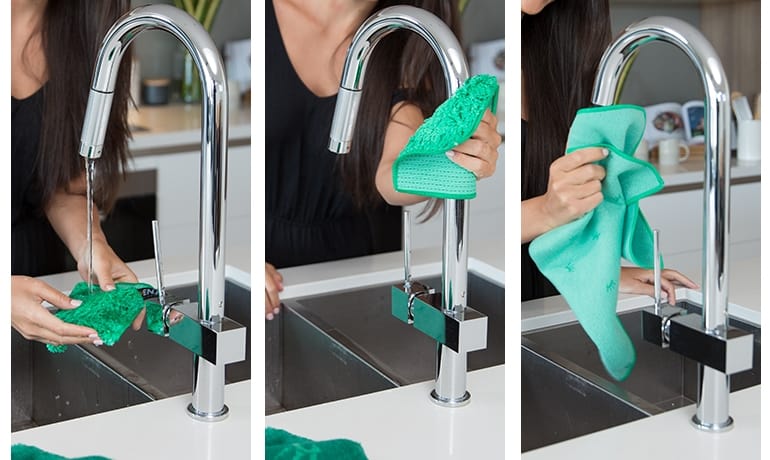 Step 1 | wet
Most ENJO products are designed to be used wet, and the rule of thumb is, the dirtier the surface the wetter the fibre needs to get.
Step 2 | wipe
By wiping the surface with your ENJO product, the ultra-fine, wedge-shaped fibres loosen, lift and trap the dirt and bacteria.
Step 3 | dry
Crucial to keeping your surfaces clean and bacteria-free. It's been shown that bacteria don't grow as well on dry surfaces, and ENJO's super-absorbent Miracles keep your surfaces dry with minimal effort.
How long do ENJO products last?

ENJO Fibre products are exceptionally durable and are effective for around 3 years, depending on how you care for them and how often they are used. Each raw material used to make ENJO's Fibre cleaning products is of the highest quality, is certified environmentally and health-friendly, uses non-toxic dye, no formaldehyde and zero fragrance.
Before the ENJO products are made, the fibres undergo strict quality guidelines where they inspect:
The technical data when the fibre is in an unwashed and washed condition;
The colourfastness when the fibre is in a wet and dry condition; and
The performance when the fibre is in an unwashed and washed condition.
The products are made unlike any other cleaning product, and it's the attention to detail that's paramount for the product's endurance. Each ENJO Fibre product is lovingly handcrafted by expert seamstresses who have years of experience producing the products in ENJO's headquarters in Austria.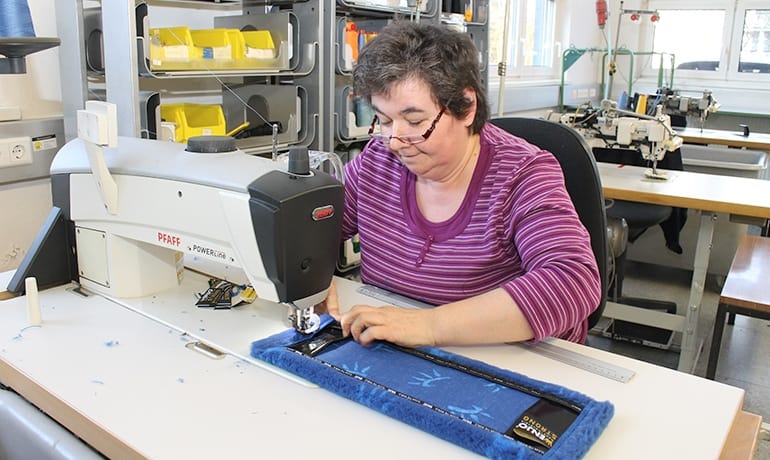 After each product is hand-sewn, each product then goes on to be hand-checked for quality and longevity, and only when the product passes the strict quality inspection criteria, is it available for retail.
The extremely high-quality materials and manufacturing techniques mean that ENJO products really stand the test of time.
How are ENJO products reusable?
Once you invest in ENJO, you will never be without your favourite cleaning products for three whole years. When ENJO products are dirty, you simply place them into one of ENJO's durable Laundry Bags and wash on a cycle between 40-60°C. Air your fibres dry and avoid using fabric softeners and your fibres are ready to be reused again and again.
You're reducing household waste and chemical use in one!
How else is cleaning with ENJO different?
It's faster
Remove the need for chemicals and you'll clean your home so much faster. No need to wipe down the surface before you spray your cleaner. No need to wait for the chemical cleaner to work and no extra rinsing to remove the chemical residue from the surface. It's a simple wet, wipe and dry.
With ENJO, you can dust and mop your floors in the time it takes to make a cuppa… we put it to the test!
It's environmentally friendly
Most conventional cleaning products generate waste, whether it be empty plastic bottles, disposable rags, drying cloths and chemical waste going down the drain.
Fibre cleaning products eliminate chemicals and waste, and when it comes time to renew your ENJO fibres, ENJO accepts all old fibres for upcycling into car seats and home insulation at their ENJO International headquarters in Austria. Zero chemicals and zero waste.
ENJO ensures the production of their products is environmentally friendly too, using green energy to power the factory since 2013 and being 100% carbon neutral since 2015.
It's safer
Chemicals are harmful to our health and can be a potential risk to households with young children. ENJO Australia's prior partnership with Kidsafe helped raise awareness about hazards commonly found in the home and to educate families with young children about reducing risks. By replacing chemicals with fibre technology, you're replacing one risk with a safe solution.
Still not convinced ENJO could keep your home clean? Hosting an ENJO Demo is the best way to see ENJO in action in your own home and comes with so many benefits if you decide cleaning chemical-free is for you.