The healthiest way to dust your home + keep it dust-free for longer
A must-read for those with asthma, allergies and for those on a quest for a dust-free home


Dusting your home can seem like a never-ending task, and it kind of is.
Dust gets everywhere and is continually building every, single, day. Regular dusting is important for a number of reasons.
Why is dusting your home important?


Dusting your home is important for a healthy home. A build-up of dust contributes to poor indoor air quality which has been linked to short-term and long-term health issues.
Most people make the cleaning mistake of using a feather duster to pick-up dust when there's a way to remove dust faster, more effectively and without air-polluting products.
Dusting is a tactical cleaning task, and when you're cleaning your home dusting should always come first!
What is the most effective way to dust your home?


We put four dust-cleaning solutions to the test to measure the effectiveness of each product at picking up dust.
ENJO's Dust Floor Fibre picked up dust effectively without spreading it around the room. The unique fibres are 100-times finer than a human hair and create a static charge when they pass over the dust that attracts it like a magnet.
What's the healthiest way to dust?



The ENJO Dust Floor Fibre created 13-times less dust pollution compared to the conventional dust mop, indicating the fibres superior ability to trap dust instead of dispersing dust.
5 healthy steps to a dust-free


Step 1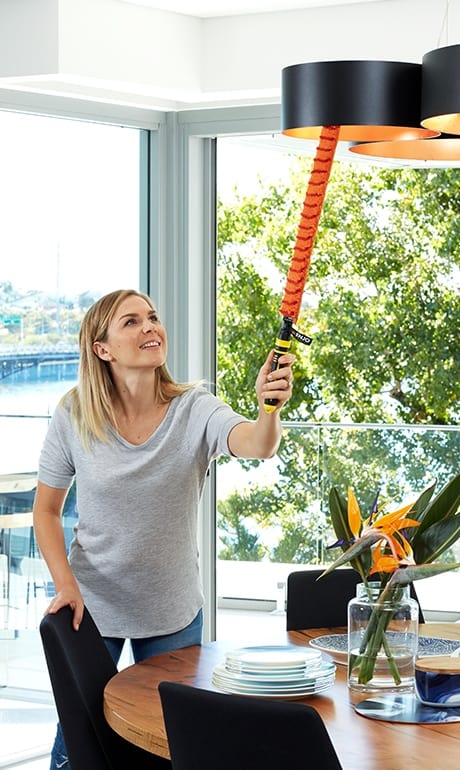 Dust manages to cover all the surfaces in our homes, from the highest shelf or picture rail to your skirting boards and floors. Remember to start from the top and dust light fittings, ceiling fans, window frames and the tops of cupboards and shelves first. A tall Dust Flexi if perfect for reaching up high and even attaches to ENJO's Floorcleaner pole, perfect for reaching right into those high corners.
Step 2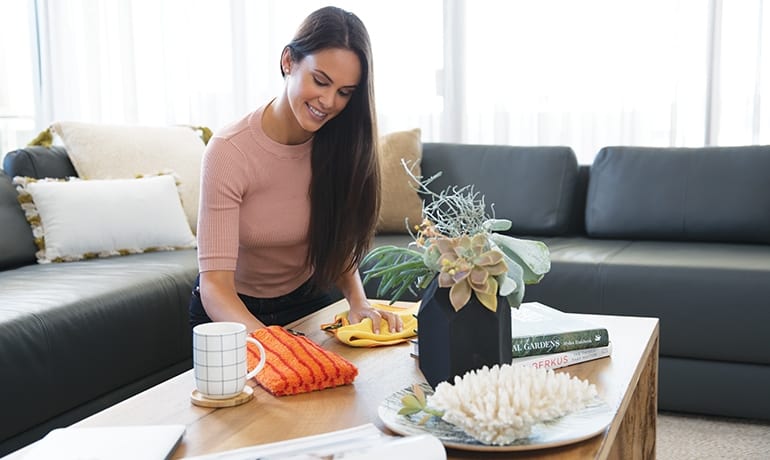 After dusting those high and hard to reach areas, it's time to tackle furniture and décor. Switch to your ENJO Dust Glove to pick-up dust seamlessly. The fibre technology actually lifts and traps the dust within the fibre weave, which means you can avoid furniture polish and other chemical sprays that actually attract dust, meaning you stay dust-free for longer.
Step 3


Next, you want to clean your skirting boards and floors. ENJO's Dust Flexi is great for removing dust from the tops of skirting boards, a common area of the home people forget to clean.
Step 4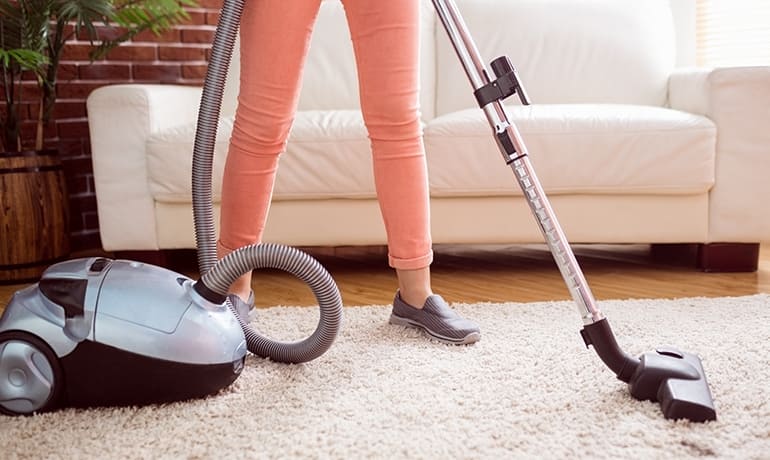 After cleaning up dust with your Dust Flexi and Glove, wait approximately 30 minutes to let any disturbed dust settle. Use your vacuum cleaner to pick-up dust from carpets, rugs, sofas and armchairs. ENJO's Lint Glove is great for picking up dust from lampshades.
Step 5


ENJO's Dust Floor Fibre is the proven most effective way to pick-up dust from hard floors with minimal dust dispersal. It's also the quickest way to get your floors clean and easy way to pick up dust from hard/smooth surface floors. Simply pop the Dust Floor Fibre onto the Floorcleaner and you're away. ENJO's Floorcleaner pole can lie horizontally to the ground, making it super easy to reach under beds, tables and couches.
Step 6



Complete your chemical-free dust clean by finishing your floors with the ENJO Floor Fibre that suits your floors. Simply add water and quickly whip around with your ENJO Floorcleaner to clean your floors (with just water) and remove any pesky dust particles you may have missed.
Want to see ENJO pick-up the dust in your home?
Top ways to minimise dust in your home


Your home is now healthy and dust-free, but that doesn't mean you want to be cleaning up dust more than you have to.
Here are 6 nifty tips to help keep the dust at bay between cleans.
1. Brush pets regularly and do it outside


Pets are cute little contributors to the daily dust build-up. Brush them often and do it outside to minimise the mess.
2. Dust-bust your floors daily


Sweeping your floors daily sounds horrible, but it will make a big difference. Keep your ENJO Dust Floor Fibre attached to your Floorcleaner, and keep your Floorcleaner in an easy-access area. You'll be surprised how quickly you can clean your floors – we put it to the test – and it's quick.
3. Avoid furniture polish


Polish has a negative effect on your home's indoor air quality and actually attracts dust. Opt for a chemical-free shine with a reusable polishing fibre!
4. Use a lint glove on lampshades


Lampshades and light fittings literally shine a light on the dust in your home. Using a lint roller or Lint Glove is a great way to physically remove dust quickly and gently, without damaging the light. Just make sure the power is off and the shade is cool before you clean.
5. Buy a quality doormat


Two-thirds of the dust in your home comes in from outside. You'll be surprised at the dust-buffering power of the doormat, invest in quality and you won't regret it!
6. Dust your ceiling fan


Ceiling fans collect dust and disperse it far and wide as soon as you turn them on (not good if you suffer from asthma or allergies). Use an old pillowcase to remove dust from ceiling fans without getting dust everywhere. Simply place the fan blade into the opening of the pillowcase, then drag the pillowcase towards you. The dust from the fan goes straight into the pillowcase.
Editor's note: this post was updated 17 July 20119.