A clean that's making a positive impact to you, your health and the planet, now comes with exclusive benefits.
For 27 years ENJO Australia has been sharing a chemical-free, sustainable way to clean that's not only better for Australian homes, but also beneficial to the planet… and now we're rewarding everyone who embraces this sustainable way to clean.
What is an ENJOpure home?
ENJOpure is a loyalty program set up to reward our amazing ENJO Customers for choosing a way to clean their home that's not only healthier, cost-effective and convenient – it makes a HUGE impact on our planet.
Why does ENJOpure exist?
ENJO doesn't only offer a healthier way to clean your home (replacing chemical with fibre technology and water), choosing to clean with ENJO has the power to help protect our planet. We felt it was high-time we reward our Customers for their decision to clean with a sustainable cleaning brand by offering exclusive ENJOpure benefits.
One of the great things about cleaning with ENJO is that once you've purchased your cleaning products, you don't have to buy those cleaning products again for years – this is HUGE for so many reasons. Firstly, it saves you time and money shopping for replacement products, and secondly, it prevents so much waste from ending up in a landfill.
Just think about your bathroom cleaning products. If you replace your spray cleaner, sponges and surface wipes once a month, over 3 years that's 36 plastic bottles, 36 sponges and 36 packets of wipes heading to a landfill.
With ENJO's Bathroom Bundle, you buy it once and over those 3 years that's all you need. After 3 years ENJO HQ upcycle old fibres into car seats or insulation. Making your cleaning products zero-waste products.
This is example shows the power of an ENJO purchase in one bathroom in one home, there are 8.4 million households in Australia, and collectively that's a lot of waste.
How does it work?
The aim of ENJOpure is to change how people think about cleaning, room-by-room. The technical definition of an ENJOpure home is a household that chooses to clean any 5 of the 7 rooms/areas of the home with ENJO.
Each ENJO Fibre product is allocated a number of points, depending on how powerful the product is considered when it comes to replacing chemicals and disposable products. Each area of the home requires a certain number of points (ie a certain number of products) to be considered a room that's 'ENJO clean'. To further unpack your ENJOpure points, click here.
When at least five of the rooms in your home are 'ENJO clean', you're an ENJOpure Customer, which means you automatically have access to ENJOpure benefits.
I've purchased ENJO products, how do I find out if I'm ENJOpure?
Finding out if you're an ENJOpure Customer is simple. If you have an account, simply log in at enjo.com.au and click 'My ENJOpure status', this will let you know if you're ENJOpure, or what you need to do to get there.
If you don't have an account, simply create one in you'll be able to check your status in around 24 hours.
I've never purchased ENJO before, what's the quickest way to become ENJOpure?
How you become ENJOpure is up to you and will depend on your lifestyle, your home and your budget.
The quickest way to become ENJOpure and switch to a chemical-free, zero waste clean, is by investing in an ENJOpure Bundle. This will mean you have all you need to clean your kitchen, bathroom, living area, floors and windows for three years.
If you're keen to get your ENJOpure journey started and change the way you clean your home, holding an ENJO Demo is the best way to make the change, as you'll receive one room's worth of ENJO products for free, you get to choose one item for half price (our Floorcleaner is a big favourite) and you receive ENJO credit to use on your order.
All ENJO products are available for purchase online and with Afterpay – plus, you can always try before you buy as all ENJO products have a 30 day money back guarantee.
What are the ENJOpure benefits?
As an ENJOpure Customer, you automatically receive 15% off all ENJO products, including Bundles and sale items, you'll also be eligible for free shipping on orders over $99.
Why is ENJOpure important?
Sustainability is a hot topic now more than ever. Single-use, throw-away items are fast becoming a thing of the past for one good reason, our planet can't handle the waste, and we're seeing a rise in reusable products to replace them.
ENJO products are entirely reusable for three years, helping reduce waste, but the really important part is, after their useful life, the fibres can be upcycled into other useful items, such as car seats and home insulation. They don't have to become useless, wasteland rubbish, they create zero waste.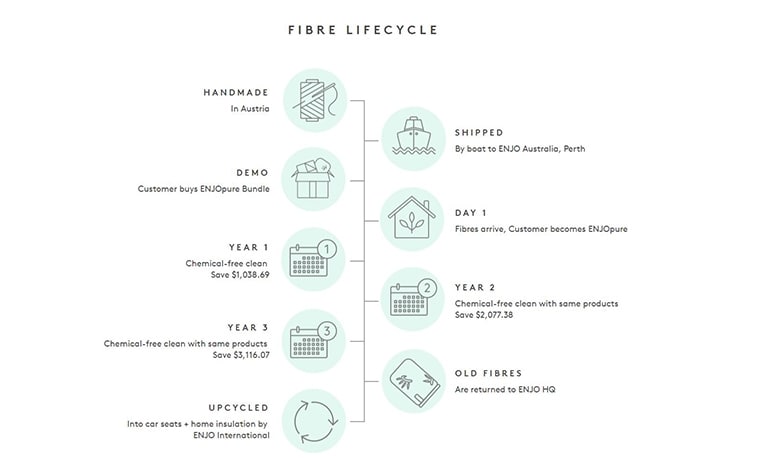 We truly believe that by sharing the message of a reusable, sustainable cleaning product and helping as many people become ENJOpure as possible, we will make a positive impact on the planet.
If you're interested in finding out more, you can learn more about ENJO on our website, or book a Demo to see the products in action in your own home.