The best way to clean stubborn pots and pans
The best way to clean stubborn pots and pans


Cleaning tips for the toughest pots and pans plus hacks to keep washing-up clean and green
After dinner dishes are never a household task that sees people jumping up from the dinner table to help, especially when pots and pans have stubborn stains or burned-on food.
We've got the tips and tricks that have your breakfast, lunch and dinner dishes sorted, with green products that remove the grease and grime while helping keep your pots and pans in great condition.
Soak stubborn stains immediately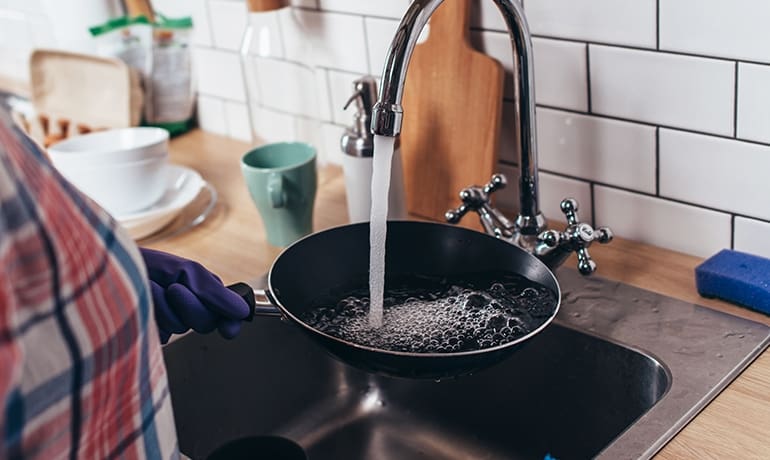 Water is an amazing natural solvent, so if you notice burned-on residue at the bottom of your pan, don't wait, add enough warm-to-hot water to cover the stain. The longer you wait before soaking, the harder the residue will be to shift.
Add a natural detergent to the soaking process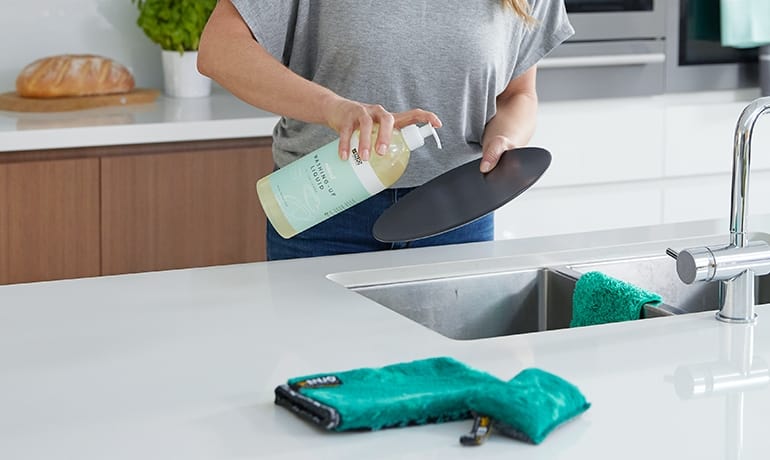 Help speed up the process by adding a little detergent to help break down the matter. We recommend something natural, like a plant-based surfactant. ENJO's Natural Washing-up Liquid contains sugar beet and sweetcorn surfactants with added orange peel oil, which is great for cutting through grease.
Don't soak for too long


Cold dirty dishes in the morning appeal to no one and the soaking process is far more effective when the water is hot/warm. So once the water has cooled, don't wait, start the cleaning process.
The tools


The soaking process often removes the majority of burned-on food, but if you're left with the really tough stain directly on the bottom of the pan, this calls for an effective sponge or brush to team with your natural Washing-up Liquid. ENJO's Kitchen Sponge is double-sided, the 'grime side' is made up of tough fibres, perfect for scouring tough stains lose without scratching the surfaces of expensive pans.
For super tough stains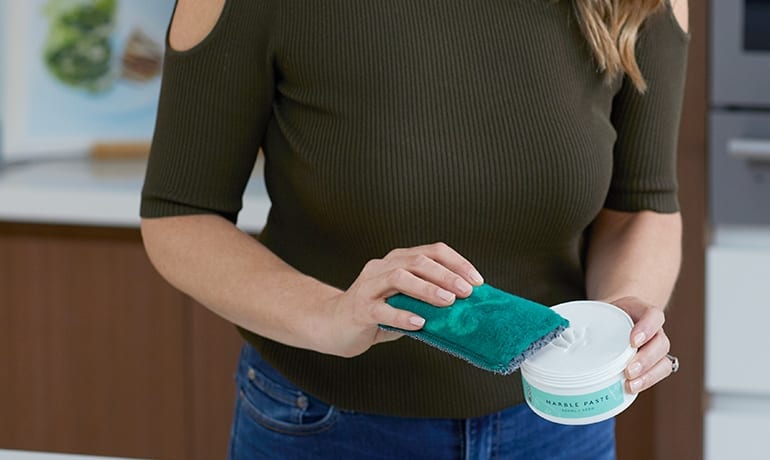 If your stain or burned-on residue is super tough, a little help from a natural abrasive like Marble Paste may be required. ENJO's Marble Paste contains actual marble powder that acts as tiny grains making it a perfect mild abrasive to loosen and lift dirt when teamed with ENJO Kitchen fibres. Simply apply straight to your wet ENJO Fibre and clean the affected area in a circular motion, then rinse.
The great thing about investing in ENJO is that you simply place your cleaning fibres in the laundry bag provided, wash and dry and they are ready to tackle your next set of dirty pots and pans.
Now you know the secret to green-cleaning tough stains, here are some washing-up mistakes to avoid for the future and make the whole experience more effective and environmentally friendly.
Change your sponge regularly. In the cleaning world, kitchen sponges are a hard-working cleaning supply, their main responsibility to loosen, lift and remove grease, grime and food residue including bacteria from your dishes and surfaces. In doing so, it doesn't take long for them to be consumed by dirt and bacteria, which is why changing them frequently is important for your health, but sadly, not so great for the environment. By choosing an environmentally responsible Kitchen Sponge, you can wash and reuse your durable sponge over and over again, keeping your cleaning effective without contributing to landfill.
Be conscious of your water use. You really don't need to fill the kitchen sink to the brim to effectively wash your dishes, a couple of inches of water in the bottom of the sink works just as well for washing-up, and installing a low-flow faucet is a great way to minimise water waste.
Don't wash-up in a dirty sink. In most busy households the sink is often 'in use' for a variety of cleaning tasks. So much so, that cleaning the sink isn't carried out as much as it should be (along with these areas we commonly forget to clean). Considering the sink is a place you'd like to get your dishes clean, it should be clean, so remember to clean it before or after each use.
Avoid harsh chemical cleaners. There's so much choice when it comes to dish detergents, but as the suds go directly down the drain, choosing natural where possible, is the best option.
Do you have any other green cleaning tips? Add them to the comments section.