How to clean your floors in the time it takes to make a cuppa
It's been tried and tested and we have the video footage to prove you can clean your floors in the time it takes to make a cuppa


Keeping your floors clean is a never-ending task which means getting the job done quicker is the dream.
Most floor types show up dust, dirt and chemical residue as soon as the light hits them.
Proven tips to help keep your floors clean for longer are great, but nothing is as satisfying as freshly cleaned floors.
What's the quickest way to clean your floors?



Cleaning quickly is great but only if it's effective.
Cleaning dirty floors with ENJO means one floor-cleaning system that dusts your floors and cleans your floors with specially designed fibres that suit the type of flooring in your home.
No buckets, no bending and no harsh chemicals. Cleaning your floors with ENJO means you spend less time cleaning, you're not compromising your home's indoor air quality, you're cleaning-up dust more effectively and it's a green way to clean too.
Did we really clean floors in the time it takes to make a cuppa?


We recently put our tried and tested floor cleaning method to the test… and yes, you can dust and clean your floors in the time it takes to make a cuppa.

What you need to clean your floors quickly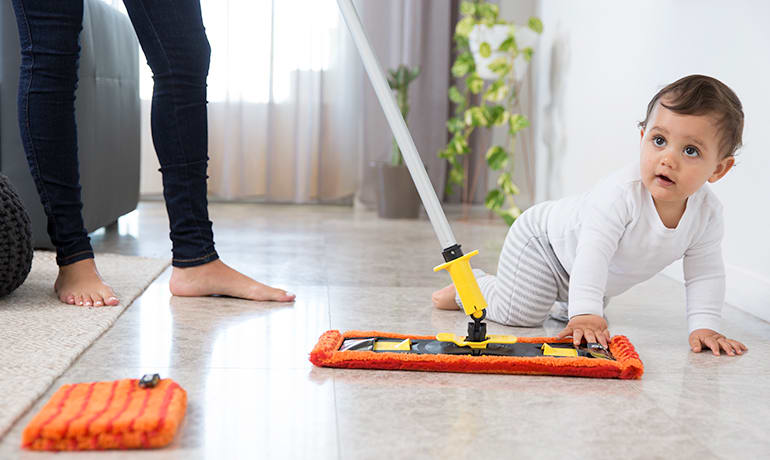 The ENJO Floorcleaner is our bestselling products for so many reasons, like being comfortable to use thanks to the ergonomic design, offering an effective clean for a range of different floor types and the fibres being reusable for up to 3 years.
The ENJO floor cleaning system consists of the hardware and the fibres. Here's how it works.
How the hardware works


The ENJO Floorcleaner is quick and designed with comfort in mind.
Adjust the telescopic pole to your height so you can clean with a relaxed, upright posture. The handle has a non-slip-grip and the head attachment allows the pole to lie parallel to the floor, making it perfect for cleaning underneath furniture with minimal exertion.
You attach your Floor Fibre to the head of the Floorcleaner. It has a patented locking mechanism so your Floorcleaner can stand hands-free, perfect for space-saving storage.
The pole and the head connect with a twist (see ENJO Guide for a 'how-to assemble'). To attach your chosen Floor Fibre, simply click the 'open' button, slide your Floor Fibre in, click 'close', lift the collar and you're ready to clean.
How the Floor Fibres work




Unlike a mop, ENJO Fibres are designed to effectively clean a range of different surfaces offering the most effective clean depending on your floor type.
Made in Vorarlberg, a region in Austria known for its expertise in the design and manufacture of smart textiles. With 30 years' experience in textile innovation, ENJO has design five Floor Fibres in the ENJO range; Dust, Shine, Matte, Extreme and Outdoor.
Each Floor Fibre is made up of a different composition of raw materials and a unique weave for optimal cleaning of every floor type without the need for a single chemical.
How do you know what Floor Fibre you need for the quickest clean?


Simply follow our handy flow chart to discover the right ENJO Floor Fibres for your home.
How to clean non-reflective, low shine floors with ENJO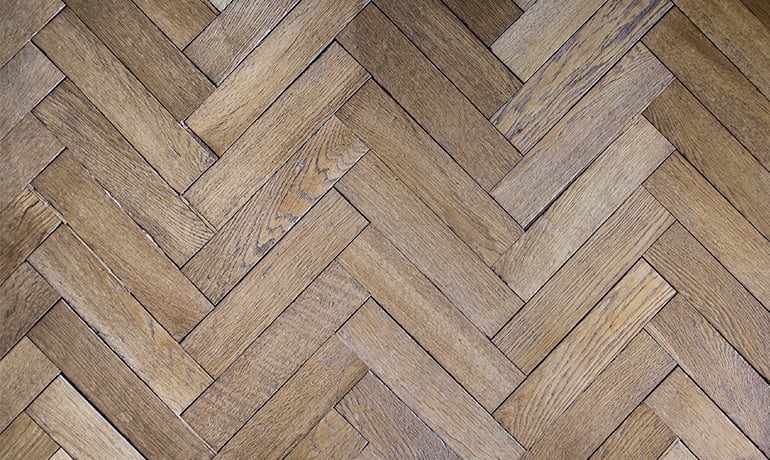 Keeping low-sheen, matte flooring clean is quick and easy with the Matte Floor Fibre. Only a small amount of water is required to lift and trap dirt from sealed flooring.
How much water you use depends on how dirty your floors are, dirtier areas will need more water. Simply wet the fibre with your ENJO Trigger Spray Bottle, squeeze out any excess water. Attach the Floor Fibre to your Floorcleaner and clean your floor in an 'S' motion.
Remember to use minimal water on wooden flooring and open the window to let air circulate so that your floors dry faster (also a great way to improve your home's indoor air quality).
How to clean high shine, streak-prone floors with ENJO



When cleaning floors with a high-shine or glossy surface you want to achieve that high-shine, perfect finish without streaks and residue that can be left behind by chemicals and detergents.
Cleaning your floors with the Shine Floor Fibre only requires water and your Floorcleaner. No mops, no buckets and no chemicals make it easy to get clean, streak-free floors every time.
How much water you need depends on how dirty your floors are (the dirtier the floor, the more water you will need). Simply wet the fibre under a tap or with your spray bottle, squeeze out any excess water. Attach the Floor Fibre to your ENJO Floorcleaner and clean your floor in an 'S' motion.
The Shine Floor Fibres is absorbent, meaning your floors dry quickly leaving zero streaks or watermarks.
How to clean decking and outdoor surfaces with ENJO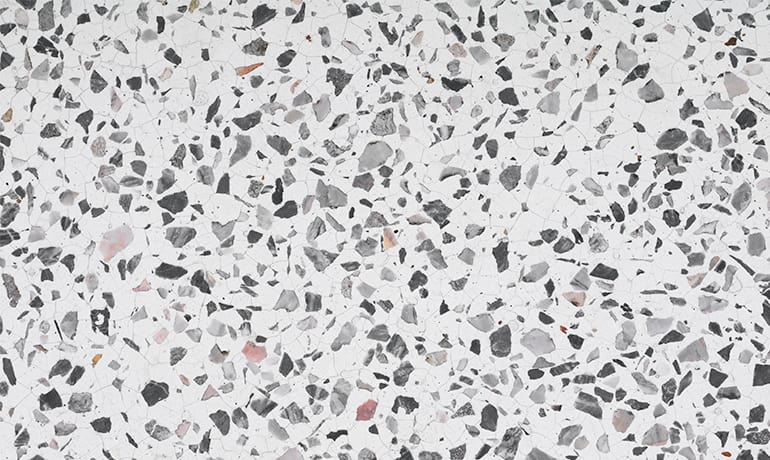 The Outdoor Floor Fibre is made from an extremely durable fibre designed to tackle dirt built-up on uneven outdoor surfaces. Perfect for removing algae from tiled swimming pools and moss from brick facades, the rough fibres offer a deep-cleaning action on extremely dirty outdoor surfaces.
Cleaning your floors with Outdoor Floor Fibre requires water and your Floorcleaner.
We recommend thoroughly wetting the fibre and outdoor surfaces before you start cleaning, and to clean without exerting pressure in a forward and back motion.
How to clean extremely dirty floors with ENJO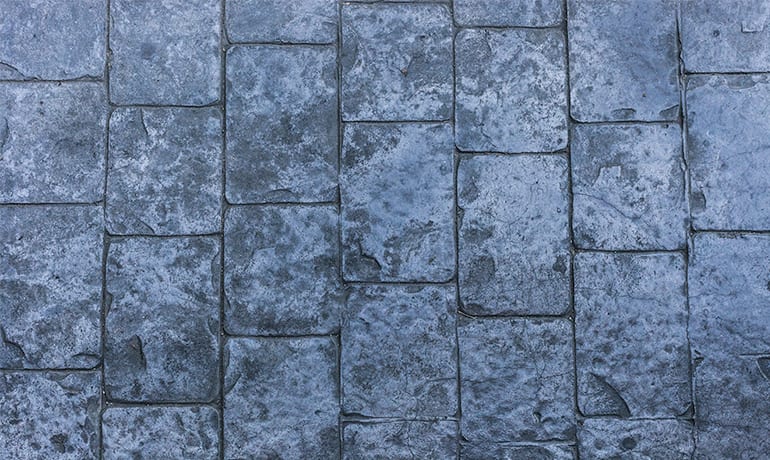 From time to time your floors might get neglected for a few weeks and you need something a little tougher to clean up the build-up. The Extreme Floor Fibre gives you that deep cleaning action with tightly woven, durable fibres that work to lift and trap stubborn dirt.
Designed with a dense knit fibre to tackle stubborn dirt and grease on smooth hardwearing floors inside or outside of the home. The super-absorbent nature of the fibre means it generally needs more water to clean the surface. As with the Matte and Shine Floor Fibre, the dirtier the floor, the more water you will need.
Simply wet the fibre under a tap and use your spray bottle to apply more water as you clean. If using the outside hose the area is necessary.
If used on indoor floors we recommend cleaning in an 'S' motion and drying off afterwards with Matte or Shine Floor Fibre (depending on your floor type). For exterior cleaning move back and forth without applying pressure.
How to dust your floors with ENJO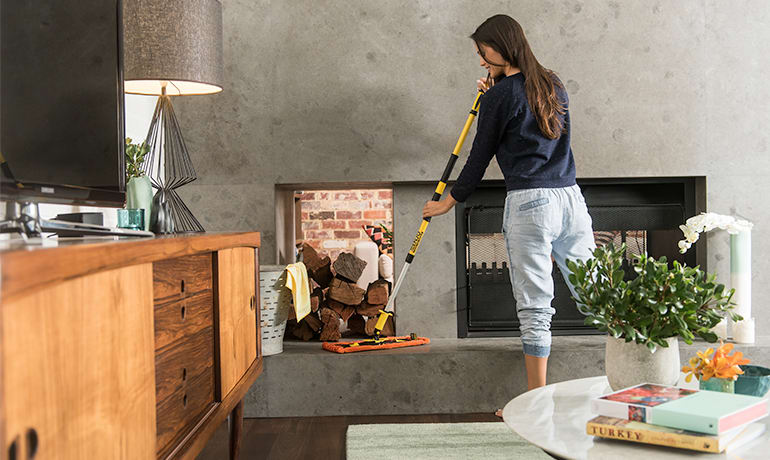 Dust build-up is a daily occurrence, you can take steps to prevent it, but you can't really avoid it.
Getting rid of dust in the most effective way possible is the only answer.
The ENJO Dust Floor Fibre is perfect for all smooth flooring in the home and is the only fibre designed to be used dry. Whizzing around your home with the Dust Floor Fibre will collect and trap even the finest dust particles with minimal dispersal.
Don't believe a Floorcleaner could be that quick?


Arrange an ENJO Demo and you can test out the ENJO Floorcleaner for free and even be gifted one as a host reward (among many other benefits).
Editor's note: this post was updated 1 August 2019