25 insider secrets to a clean home and stress-free festive season
Surprisingly simple tips you should definitely follow for a clean home and stress-free festive season
The holidays are a time for fun and family, but it can be stressful, wasteful and messy.
With a little pre-planning, you can rid your life of the stress and mess with our insider secrets to a clean home and stress-free festive season.
1. Put a plan in place




The holidays are a busy time of year. Finding time for household jobs gets increasingly harder on the run-up to the big day.
Making a list of jobs that need to be completed on the countdown to Christmas instantly makes things more manageable.
Block out time in the evenings for those small jobs and reserve big jobs like cleaning your windows for weekends.
2. Start with a clean slate before you decorate
Decorating your home for the holidays is the perfect time to clean all those common areas of the home we forget or don't have time to clean regularly.
One big deep clean before you decorate gets the holiday season off to a clean start.
3. Make a budget



It's so easy to let spending get out of control during the festive season, which can get stressful.
Putting a budget in place (that allows for unseen expenses) helps decrease stress levels and the holiday season run smoothly.
4. Assign your guests a dish



If you're hosting Christmas and have guests coming over, the enormity of the task can be overwhelming, time-consuming and costly.
Don't hesitate to ask your guests to bring a dish. It's in the spirit of the season and will lighten your load considerably.
So get organised and send out a group text.
5. Prepare your shopping list


A shopping list will not only help you get your shop done quicker (meaning more time to tick tasks off your to-do list), you're less likely to forget items and have to make a repeat trip.
Creating a list and sticking to ingredient quantities is also a great way to help reduce food waste (and your shopping bill).
6. Remember your reusable shopping bag


Using your reusable shopping bags has so many benefits.
You can usually carry more groceries more comfortably.
You're not paying for bags at the checkout and contributing to the plastic problem. Plus, you're not creating more household waste or an unsightly cupboard stuffed full of plastic bags.
7. Clean and organise your fridge


Never a fun task, but a clean and organised fridge will make you your festive holiday a whole lot happier.
ENJO's Kitchen Mini and Miracle are perfect for wiping down shelves and drawers leaving you a clean space (without a single harsh chemical) to reorganise the contents.
Plan to use up foods that may go out of date and make sure you leave room to store all your festive leftovers!
8. Get ready for dirty dishes
Hosting and the holidays generally mean more cooking and thus more cleaning.
Be ready for all the stubborn pots and pans with a reusable sponge and concentrate washing-up liquid.
Great for reducing waste and ensuring you're never without your washing-up essentials
9. Top up your t-towels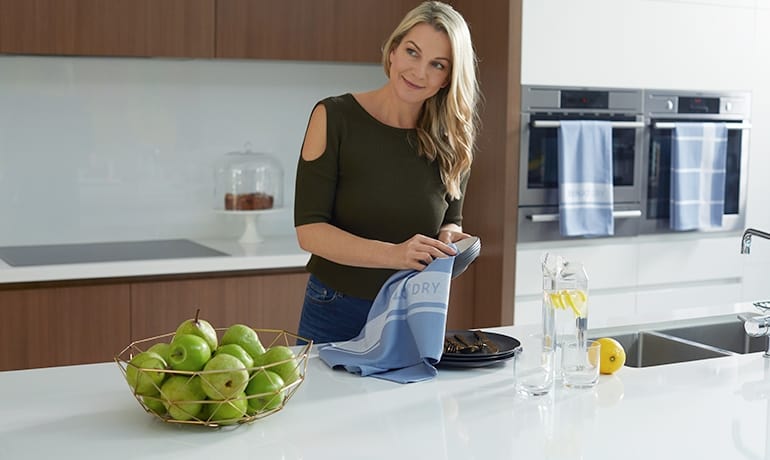 More washing up means more drying up!
One of the most versatile tools in your kitchen, make sure you have enough clean T-Towels at your disposal.
Choose quality (T-Towels that dry your dishes quickly and don't leave behind any fluff), and keep one near the sink, one by the oven, two under the sink and a couple in the drawer for easy access at all times.
ENJO's T-Towels are larger than your average t-towel and made from a mix of superabsorbent bamboo and cotton.
10. Reorganise your pantry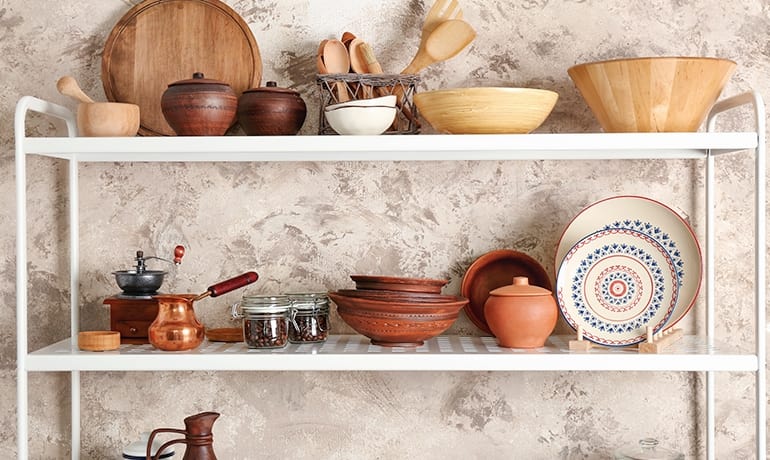 Unorganised pantries happen, but searching for what you need slows you down and makes preparing and cooking a meal that much harder.
Take time to reorganise your pantry and ensure the ingredients you will need on the big day are front and centre.
If you're cooking up a meal that uses lots of herbs and spices, separate them out into handy little storage boxes for each recipe.
11. Stock up on snacks


Don't go overboard, but having snacks handy is always a good idea during the holidays.
Festive nuts, cheese and crackers, biscuits… mince pies – choose a few family favourites to have on hand for fewer trips to the store and for those unexpected guests.
12. Make time for meal prep



Stress a whole lot less on the big day and carry out some food prep.
Use ENJO's Fruit and Veggie Cloth to make sure all your fruit and veg is clean, then peel, chop and keep fresh in the fridge. Beeswax Wraps are a great way to store chopped ingredients in the fridge.
Measure out ingredients for other recipes ahead of time, this will be a big time saver and will help keep your kitchen workspace clean and clear on the day.
13. Clean your oven
A clean oven is more effective – which is what you want when cooking for family and guests.
Keeping it clean without chemicals is quick and only requires 3 products for a sparkly finish.
14. Remember to clean as you go


It sounds so simple, but when you're in the middle of cooking numerous dishes, the kitchen can descend into chaos quite quickly.
Before you start cooking make sure you have your ingredients organised, your recycling bin and scrap bin easily accessible.
Keep your ENJO Allpurpose Cloth at the ready and wipe down surfaces with just water as you go.
15. Get ready for leftovers


Preventing food waste is important and tucking into leftovers on Boxing Day is a Christmas tradition.
Make sure you have your reusable containers and beeswax wraps at the ready to store and keep your leftovers fresh.
16. Plan your table trimmings



Think about how you would like to set-up your table on the day ahead of time.
It's nice to add decorations and name settings to make it extra special.
ENJO's Bling Miracle is great for bringing back the shine back to your best cutlery and glassware.
Dress and lay the table the night before for one less thing to do Christmas morning.
17. Keep your gift wrap waste-free


Wrapping paper is one of the biggest contributors to waste during the holiday.
Often wrapping paper can't be recycled and just adds to your household waste.
Keep wrapping waste-free where possible and be ready with a box to save use wrapping paper for another day.
ENJO's Wrapped with Purpose kit is free with the purchase of any ENJO Bundle and is available to purchase this holiday season.
18. Declutter for the big day

With the addition of a tree, gifts and other festive trimmings, living areas can quickly become cluttered.
Strip back ornaments and any unnecessary furniture that might just get in the way.
Make sure you have enough seating for your guests and if you have kids, make sure there's ample room for playing with new toys.
19. Dust daily

With all the extra trimmings and decorations, there are more places for dust to settle creating poor indoor air quality.
Keep your living spaces healthy and dust-free by simply wiping over surfaces with a dust fibre that traps and removes dirt.
Cleaning with ENJO's dust-busting trio takes minutes and is proven to remove more (and disperse less) dust around your home.
20. Top up your bathroom supplies


With plenty of guests comes plenty of visits to the bathroom.
For one less thing to think about, ensure you have plenty of toilet roll, hand soap and clean hand towels at the ready.
Keeping your bathroom clean with reusable cleaning products, will mean you're always able to wipe down and keep your bathroom clean without running out of products.
21. Make sure you stock up your 'under the sink' stores

Store your ENJO Bathroom and Kitchen fibres and Miracles under your sink for quick clean-ups throughout the day.
No one wants to spend time cleaning while you're trying to enjoy the festivities, so make sure you clean as you go with ENJO for a mess-free, stress-free Christmas.
22. Keep on top of your floors


With people coming and going your floors get dirty fast.
Fortunately cleaning your floors can be fast too (something we've proven).
When you flick the kettle on simply grab your Floorcleaner and at least sweep up the dust and debris with the dust fibre to help keep your floors cleaner for longer.
23. Green clean your outdoor area




Christmas gatherings always end up outside in Australia, so make sure the area is ready for your guests.
Sweep up and clean down outdoor chairs and tables easily and if you have time, give your windows the once over.
24. Get ready for spills


More people gathering around to enjoy the festivities increase the opportunity for spills.
Don't let spills on carpets, rugs and furnishings ruin your holiday season, get rid of stains naturally with ENJO's Fabric Glove.
Wondering if ENJO really works at removing dirt and stains? It does!
25. Organise your festive waste


From packaging, food waste, gift wrapping and empty drink bottles, waste is more prevalent at this time of year.
Have your recycling, composting and waste system organised and ready to go and follow our tips for minimising festive waste where you can.
Do you have tips for keeping your home clean during the holiday season?


Share your tips in the comments.
Wishing you all a stress-free holiday season.
[Editor's note: this blog post was updated 7 November 2019]