How to make your home Kidsafe
Celebrating our new partnership with Kidsafe with a room-by-room guide to being Kidsafe
In 2017 the biggest health problem facing Australian children is injury, but what's even more surprising is that 25.5% of all injuries occur at home.
We tend to think of our homes as a safe place, a space we customise to suit our own tastes and want for comfort, but it's not until you actually look at your home from a child's perspective that you see the potential hazards that exist.
Hazards in the home and childhood injury is the reason Kidsafe exists as the leading independent, not-for-profit organisation dedicated to promoting safety… and it is working! Since its inception over 30 years ago, the number of childhood deaths and hospitalisations has more than halved.
We couldn't be more pleased to announce our partnership with an organisation that makes the world safer for kids and together we hope to help promote safety at home focussing on poison prevention. Poison is a leading cause of injury in children under 5 with 33 kids being admitted to hospital every week in Australia, and it's everyday household items such as cleaning chemicals that pose a significant risk.
How do you make your home child friendly?
1. Spot the hazards
2. Decide how to deal with the hazards
3. Make the changes
Making your home a safe environment is all about managing risk and removing hazard.
In each state in Australia Kidsafe have a safety demonstration house, it mirrors a typical family home and demonstrates the best practice safety measures to protect children.
With information straight from the source, we've put together our ENJO x Kidsafe room-by-room guide to being kid safe.
Kitchen
The heart of the home, the kitchen has plenty of potential hazards to consider when you have kids. Most kitchens are also open plan, meaning it's hard to restrict access to potential hazards, but there are plenty of things you can do to reduce the risk.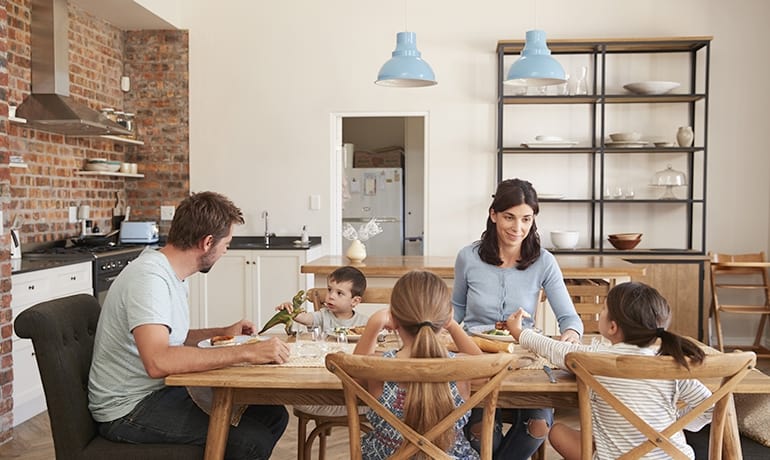 Hot foods and liquids
Keep hot foods and liquids out of reach of small hands. Children under 5 are most at risk of burns and scolds at home, hot water and drinks are often the cause.
The stove
Young children often grab whatever is available to steady themselves. When cooking, use the back elements on the stove first, and ensure cooking pan handles are out of reach. Freestanding stoves should be firmly attached to the wall.
Fire extinguisher and fire blanket
Investing in a fire extinguisher or fire blanket is a great idea for the kitchen. Read the instructions to be sure you know how to them effectively in an emergency. Large pan lids can help smother small fires.
Knives and matches
Use top draws and high cupboards to store dangerous items (knives, matches, lighters), and add safety latches or gateways to the kitchen entrance if possible.
Chemicals, poisons or medicines
Many chemicals in the home are harmful to children, always check the label and store in a locked cupboard 1.5m above the ground. Get rid of unnecessary or old medicines and opt for a chemical-free cleaning alternative to eliminate that risk.
Shopping bags
Plastic shopping bags are ubiquitous in our modern lives and are dangerous in the wrong hands. Opt for reusable shopping bags or ensure you store plastic shopping bags out of reach.
Kitchen appliances and switches
There are many cooking and prep appliances available that make kitchen-life so much easier. Ensure cords do not dangle, unplug appliances when they are not in use and use plug-in covers when power points are free.
Slippy surfaces
Easy to clean tiles are often installed in kitchens which tend to be slippy. Use easy-to-clean rugs on slippy high-shine surfaces to reduce the risk of slips and falls.
Bathroom
Whether kids love or loath bath time, there are plenty of ways to make the experience safer.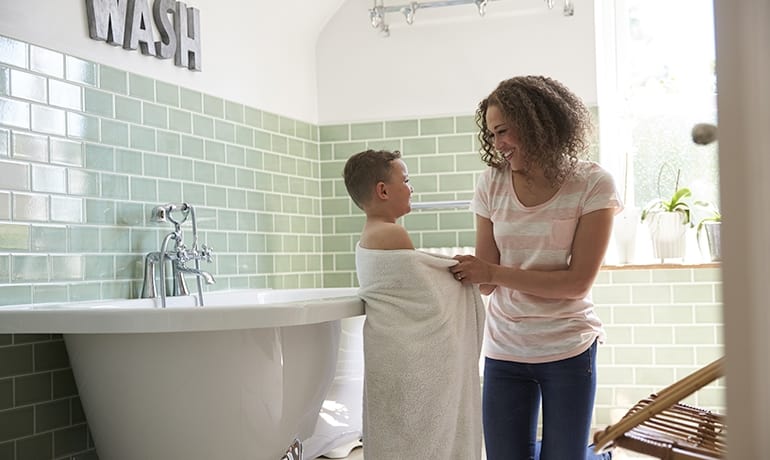 Bathroom appliances and switches
Water and electricity is a dangerous combination, ensure electrical appliances are unplugged and put away when not in use, and use plug-in covers when power points are free.
Hot water
More than 90% of scalds from hot water occur in the bathroom. Hot water taps can be controlled by a qualified plumber to deliver a maximum temperature of 50 degrees. You can also add child resistant tap covers.
Storage
Bathrooms are often home to the family medicine cabinet and sharp objects like razors and scissors. Adding child resistant locks on bathroom cupboards and draws reduces the risk of these items getting into the wrong hands.
Cleaning products
Overtime bleach has established itself as a bathroom basic, ensure any harmful cleaning products are stored away safely, and consider opting for a chemical-free cleaning alternative.
Bath time
As soon as bath time is over remember to empty the water and use bathmats to avoid slippery surfaces.
Living room
Living areas are where families tend to spend a lot of time together, meaning it's important to assess the space and make it safe.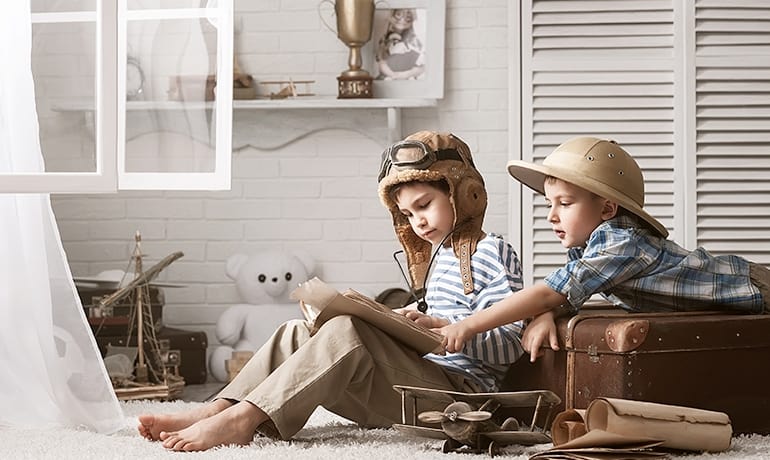 Furniture and fireplaces
Kids are inquisitive and they love to climb, make sure all top heavy furniture is safely secured to the wall and that objects or furniture kids can climb is positioned away from any windows. Use cover protectors to cover sharp corners and edges and fire guards are essential to cover open fires in the winter.
Electrical items
Televisions and other electrical equipment tend to come with a lot of wires, keep them organised, avoid letting wires dangle and use plug covers for any open sockets.
Windows and window dressing
We know kids love to explore, which means windows and window dressings are something to consider for every room in the home. Window guards are great for making sure windows can't be opened. Blind and curtain cords should be at least 1600mm above the floor.
Toys and play
Setting up a safe area for play is a great way to reduce the risk of playtime accidents. Select toys that are age appropriate and have a designated area to put toys away when they aren't being used.
Plants
Plants are great for purifying the air in our homes, but some plants are poisonous, so check carefully and ensure poisonous plants are remove or kept out of reach.
Doors and stairs
Living rooms often lead off to stairways and other rooms in the home, use chokes, wedges and catches to prevent internal doors from slamming and attach gates and barriers at the top and bottom of stairways.
Bedroom
Create a safe place for a sound night's sleep.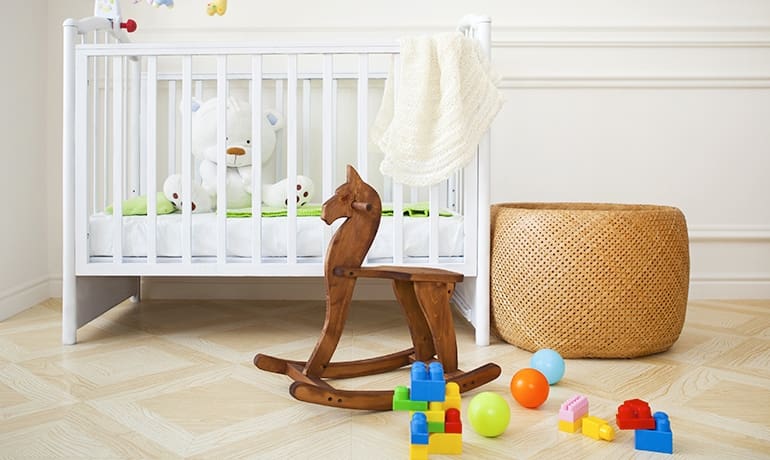 Bedroom layout and furniture
When planning a child's bedroom layout, position cots and beds away from windows and avoid positioning beds and cots under ceiling fans. Choose furniture and equipment that has the Australian Standards tick of approval and ensure heavy furniture is secured to the wall.
Window and window dressing
Add safety latches to windows and keep them locked. Choose simple blinds or curtains that come with a wand for opening and closing as opposed to a cord that can tangle and become a hazard.
Bedroom toys
Store toys low to the ground so children can reach them easily and aren't tempted to climb to reach them. For young children avoid toys with sharp edges or small parts and follow the age recommendations provided.